Andrea JENSEN
wife of Calvert Lorenzo Allred 1864-1932
Allred Lineage:    Calvert Lorenzo, Sidney Rigdon, Isaac, William, Thomas, Solomon born 1680 England
Born: 10/23/1872 Tolne Denmark,
Died: 03/12/1951
Submitted by: 01/09/1999
ANDREA JENSEN ALLRED AUTOBIOGRAPHY
I was born October 23, 1872 in Tolne Hjoring Denmark. My parents were Nels Christen Jensen and Dorothy Maria Jensen. I was the fifth child of a family on nine children.
My parents were converted to the Mormon Church by missionaries, and were baptized into the Church of Jesus Christ of Latter Day Saints between Christmas and New Year's when I was two months old. I have heard my Mother tell how the Missionaries and my Father went at midnight with a lantern up and down the creek, hunting for a place where the ice could be broken. This baptism was performed in the middle of the night as the persecution was so great the Elders had been forbidden to baptize anyone. But we all know how the Lord's work goes on in the face of persecution.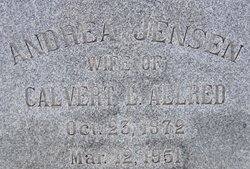 Of my young childhood I don't remember much. I remember of a little sister one year old dying when I was about four years old.
Our home was a small red brick house and I remember of going with my Mother picking berries on the sloping hills. My parents were hard working people and very poor. After joining the Church they were very desirous of immigrating to Utah and gathering with the Saints there. So when I was six years old and my sister was twelve, we were sent to Utah. She went with a Missionary returning home and I went with a family leaving there to make their home in Utah. The reason for this was, I could go for one-fourth fare and my sister for one-half fare; in another year it would have been one-half fare for me and full fare for her. My mother has told me since that it was the hardest thing she ever did, to send two of her children off 10,000 miles to a new, strange land among strangers almost and no telling how soon they would be able to follow. The Lord blessed them and they were able to come fifteen months later, with the exception of one twelve year old boy who they left behind with his grandparents till they could send for him. But before they could get the money to send for him immigration he took pneumonia and died. Another great trial for my parents.
We were more than four weeks coming from Copenhagen to Salt Lake City. I remember of being sea sick and seeing others sick, and the thrill we got when land was sighted after being on the ocean for so many days. We came by rail from New York to Salt Lake City, and by team from there to our destination. All the immigrants camped at the tithing office on the block where Hotel Utah now is. The people I came with settled at Elsinor. We came in June and the next fall I started to school. I could scarcely talk any English. The man I came with was a wooden shoe-maker. They all wore them in Denmark, but here it was different. He made these shoes out of green cottonwood and I had to wear them to school. Sometimes the boys would take them away from me and hide them, then I would go home without shoes and the lady I lived with would be angry and say it was all my fault, but the man would say, "Never mind, let me see about it," and after he would go see the teacher I would get my shoes back.
I remember very well the next summer in July the children would ask me what kind of new dress I was going to have for the 24th of July, and tell me what kind of new dresses they were getting. The lady I lived with told me I would have to stay home from the celebration as she couldn't get me clothes to wear and my parents had not been able to send anything. I remember how bad I felt, not being able to go to the celebration. The afternoon of the 23rd, two ladies came to the house bringing me a new dress, a pair of shoes and a pink bonnet. I don't think I was ever more thrilled in my life. These ladies were the Relief Society president and a Relief Society teacher and I have always dearly loved the Relief Society work every since.
In September shortly after school had started one day, a team and wagon stopped in front of the one room schoolhouse and a man came in and was talking to the teacher. I didn't pay any attention to what he was saying, but the children on both sides of me commenced to nudge men, saying, "That is your Father, he has come after you." But I said, "No, that is not my Father." They said, "Yes it is, he has come after you." I looked towards the open door and saw the team and wagon. I jumped right up in school and called out-- "That's my Pa," as a saw him sitting on the spring seat. The man talking to the teacher was a man my Father had got to bring him. The next day we started for Spring City where my sister had been and where my parents were settling. It was only sixty miles but took us two days to make the trip. Not much like we can travel now. I was very glad to see my Mother, brother and sisters. I soon started to school there and it was much pleasanter for me then the year before. How happy I was to be with my own folks again.
I always liked school and attended till I was fifteen when I quit and went to work to help out. In the year 1889 I worked for Mrs. Ruth May Fox, the general president of the Young Ladies Mutual Improvement Association. My sister who came across the ocean the same time I did, worked for President Heber J. Grant a year. That was in the year of 1882 when President Grant was a young man. She also worked for Mrs. Almina S. Taylor who was then general president of the Y.L.M.I.A.
I had many playmates and good friends, many of them are dear to me yet even if we are scattered far apart. My parents were religious and though they were poor, I don't ever remember of any of us children missing Sunday School or Primary on account of not having clothes to wear. My Mother saw to it that we always had something to wear so we could go to our meetings.
My Mother's Mother was the only one of my parents relatives who joined the Church and she immigrated and lived with us for ten years, till her death.
I was married in the year of 1890 to one of the best of men. We made our home in Colonia Juarez, Mexico. The Lord blessed us with seven fine sons and daughters. We had many thrilling experiences while in Mexico. In 1892 we were living in the mountains at a sawmill. We got word one night that a family by the name of Thompson, living a short distance from there, had been killed that morning by Indians. We got up and all went to one place. About twenty women and children were huddled in two small rooms, while the men stood guard. The next day we all left the sawmill and went to the Colony where we slept in the schoolhouse that night, and the next day we went to our different homes, but the men folk kept guard night and day for some time. We lived just across the street from President Anthony W. Ivin's home for eight years, and a better family no one could ever wish to find. After the revolution started in Mexico, we were all under a nervous strain till we were forced to leave at last. What a sad time that was, leaving our comfortable homes and all we had - what we had worked hard for the last twenty-three years -- was hard enough, but leaving our husbands and sons to look after things among the revels was far harder. The train left about sundown with the women and children, and we watched our men folk driving their teams back over the hill to our homes ten miles away. A rain was falling and there was scarcely a dry eye on the train. We rode all night without lights, as the lights might have attracted the rebels. At midnight the drinking water gave out, and many babies cried for water and their bottles - no water to fix their food with. Just at dawn we arrived in El Paso, Texas and was met at the depot by the citizens in their cars to take us to our destination. We were treated very kindly by the people of El Paso and also the Government, and after staying there for some time we all scattered -- going to different places to make our new homes. Our men folk were driven from the Colony a few days after we left, and had to make their way the best they could through the mountains to the border. We were all very grateful to our Heavenly Father for His protecting care and blessings that our lives were spared to meet again.
We came to Safford, Arizona to make our new home and a month later my sister died leaving a family of eight children, a baby of nine months old. The oldest son was married and I took the others and did for them the best I could under the circumstances. We had no home and had lost all we had in Mexico, but we now had half a dozen young men in the family and they all worked and we got along fine.
The children are all married now and have homes and families of their own. One daughter-in-law died in 1918 and left a baby girl twelve days old, I have cared for her since and have her with me yet.
My husband was taken to the great beyond in 1932 and my oldest daughter in 1935 but still life goes on about the same as usual. My children are all so good to me. I have twenty-eight living grandchildren and five great-grandchildren besides all the foster grandchildren and great-grandchildren.
Even with the work I have had caring for children, I have had some time for doing church work. Was Relief Society teacher in three different wards for a number of years in each ward. Was Relief Society secretary in two different wards. Magazine agent and Ward President. I was Sunday School teacher in the same ward for eleven years under four different Superintendency. I have done work in four of our Temples and enjoy all these activities very much. I would rather go to a good meeting than a picture show.
In 1934 I had a sick spell with my heart and high blood pressure and since then I haven't been able to do any church work nor scarcely anything at home, but still have many blessings to be thankful for.
Nine years have passed since I finish my biography, so will add a little more. Many things have happened since then. In February, 1937 I lost a little grandchild nine months old. Shortly after I took so sick with my heart, was in bed for two months and suffered so much, but finally commenced to improve and was able to be around again after awhile.
Things went pretty good for me till February 1938 when I had the misfortune to fall and break my hip and hurt my back. This put me in bed for three months, but got along fine considering the way I was hurt. The doctors told my sons to get me a wheel-chair, as I would do good if I ever got so I could use one. One bone specialist told me that it always took from six to nine months for anyone to walk without crutches after breaking a hip, and of course my back hurt so bad too, which gave me more trouble than my hip did. But with the faith and prayers extended in my behalf both by members of my family and the Relief Society members and by the Priesthood of the Ward, I was able to walk without crutches in just three months and one week. The doctors and nurses and many others were so surprised and marveled that I could walk so soon after the way I was hurt and had been given up to die a couple of times and also what they had said that I would never be able to walk again. But God is good and hears and answers the prayers of His children. My heart trouble was better for some time after that. The rest in bed for so long helped my heart I guess.
In the spring of 1941 I again was sick with my heart and felt bad all summer but have got along pretty good this year of 1942.
In the spring of 1940 my granddaughter whom I had raised and had with me for more than 22 years got married and moved away, and I was left alone in my home. It is lonesome, but not so bad when I am able to be up and around. Now this awful war to worry about. I didn't think I would ever have lived to see the whole world at war. We will win, I am sure, but the thousands of precious lives that will be sacrificed in winning it is certainly a worry and trial. I have grand-sons, and nephews and loved one who will fight to win this war.
Even with my sickness the last few years, the Lord has always been very good and kind to me. I know He hears and answers our prayers and is mindful of us and my desire is to strive with all my strength to serve Him and keep His commandments.
Now in December, 1945, I have decided I can live alone no longer, so have sold my home and am going to live with my children from now on. They are all so good to me. I have six children living, twenty-seven grandchildren and twenty-seven great-grandchildren besides several of my loved ones gone to the great beyond whom I will be glad to see again when my times comes to go.
Two of my sisters sons whom I raised after her death have passed away, one this month and one three years ago. Of course, there are more grandchildren and great-grandchildren of theirs and I am Grandma to all of them and they are all so good to me. Am so happy the terrible war has come to an end. I still have five grandsons in the service and one grandson-in-law was killed in the Pacific war in 1944.
Love to All
Andrea Jensen Allred passed away March 12, 1951
The Lord is my shepherd; I shall not Want.
He maketh me to lie down in green pastures:
He leadeth me beside the still waters.
He restoreth my soul: He leadeth me in the
paths of righteousness for His name's sake.
Yea, though I walk through the valley of the
shadow of death, I will fear no evil:
For thou art with me; thy rod and
thy staff they comfort me.
Thou preparest a table before me in the
presence of mine enemies:
thou anointest my head with oil:
my cup runneth over.
Surely goodness and mercy shall follow
me all the days of my life;
and I will dwell in the house of the Lord for ever.
IN MEMORY OF ANDREA JENSEN ALLRED|
BORN October 23, 1872
Tolne, Hjoring, Denmark
PASSED AWAY March 12, 1951
AGE 78 Years, 4 Months, 17 Days
SERVICES FROM Layton Ward Church of Jesus Christ of Latter-Day-Saints
Wednesday, March 14, 1951 -- 10:30 A.M.
OFFICIATING Bishop Vernon Burrell
PALL BEARERS
GRANDSONS
Jerry Allred
Dale Allred
Clyde Allred
Lamar Allred
Farrell Allred
Bill Birdno
BURIAL
Thatcher Cemetery
RAWSON & SON MORTUARY
SAFFORD, ARIZONA