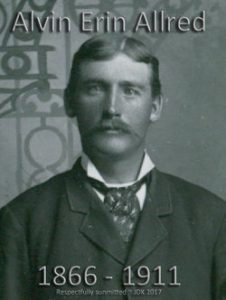 Alvin Erin ALLRED
Allred Lineage: Alvin Erin, Isaac Morley, Isaac, William, Thomas, Solomon born 1680 England
Born: 03/03/1860 Spring City, Sanpete Co., UT
Died: 04/27/1911
Submitted by: Sharon Allred Jessop 02/05/1999
Biography of
ALVIN ERIN ALLRED
Written by Jennie Allred Brothersen
Alvin Erin Allred was born 3 March 1860 in Spring City, Sanpete County, Utah, being the first white male child born there to survive infancy.
His parents are Isaac Morley Allred and Charlotte Henderson Allred, original pioneers, having been expelled from their homes in Missouri and Illinois. They had first settled with their parents at Kaysville, Davis County, Then when crops failed. And grasshoppers invaded their fields, (and worse when a United States Army came to invade Utah) these settlers, upon advice from Church Leaders, moved southward to Sanpete. Here they rejoined Allred-Henderson relatives who were among the first settlers at Manti; and were the founders of Spring City (The Allred Settlement), Mount Pleasant, and of Fort Ephraim.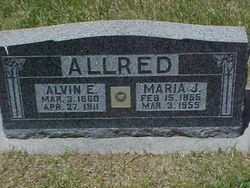 Alvin was born in a cabin on a lot one block south, and 1 ½ blocks west of the stone chapel on Main Street. The doctor who attended his mother at the time was the well known Jane Johnston Black, or "Mother Black" as she was called. It was she who attended Elder John Taylor, helping to remove the bullets from Taylor's riddled body at Carthage, Illinois. And this noble woman continued to live an interesting and colorful history in central and southern Utah.
A half-sister of Alvin's Mother, Mary (Polly) Henderson Allred came from Fort Ephraim to care for her sister Charlotte and the new baby boy. Aunt Polly was a widow with four children. Alvin dearly loved his Aunt Polly, the only relative of his mother's who te knew until later years.
At the time of Alvin's birth, settlers were experiencing much trouble with Indians. His father and other men relatives were active in the Utah militia. Father was in the battle at Fish Lake; also with his brother, Colonel Reddick N. Allred when 84 men were ambushed in Salina Canyon. The fort at Spring City had been burned by Indians in 1874 and the town was not resettled until several years later. It was Alvin's Uncle James, with other relatives who settled Spring City, eight years before Alvin's birth.
Most of the time during the summers, they spent working on their farms. Father Isaac and other relatives also owned land in Chester, where they had homesteads.
Alvin gained a common public school education. He loved learning and did much study at home of the Scriptures, history and law.
From his earliest childhood, his parents taught and lived the gospel. Their children attended regularly the Sunday School. Alvin was a member when the first Sunday school was organized in 1867, he being seven years of age. Father Isaac was, for a time, a Sunday school teacher and set the example. In 1871 Alvin was baptized a member of the Church of Jesus Christ of Latter Day Saints, by an Uncle-in-law John Robinson.
At an early age it was necessary for him to go with his father and elder brother, Isaac Edgar, into the nearby canyons for fire wood and for timber for building purposes. Alvin loved his work in the mountains and on the farm. For years he worked at a lumber mill in Canal Creek Canyon, serving as "off-bearer" and time keeper. For several summers after his marriage he continued in the lumber business. It was while working in the mountains that Alvin became well known as a singer. His father and the Allred uncles were musicians, and from them Alvin learned music , especially to sing the ballads brought from the southern colonies, Dixieland, which they loved so well. All of the melodies became familiar to him, even from some of the love Songs of his Scotch - Irish ancestry. The evenings never were dull and Alvin cheered and inspired his companions with his sweet voice and the quality and choice of his songs. Among the social activities in which he was interested are: The ward choir, of which he was an early member; also the Young Men's Mutual Improvement Association, which he joined at the age of sixteen. His cousin Sanford Allred was the president. Alvin's next younger brother, Freeman Edson Allred, also became a member of the Mutual. At the meeting one week later, his Uncle, Reddick N. Allred was present; and being invited to sing, rendered "A Missionary Song". Later at an MIA Program in 1887 Alvin and his relative, John Frank Allred, gave a dialogue. The minutes recorded show that President Sanford Allred requested that officers of MIA who were willing to keep the Word of Wisdom to signify the same. They responded willingly in favor.
At a meeting held on 22 October 1888 Alvin responded to a call to serve as first counselor to the President, John P. Johnson. John S. Blain also served as an officer along with James Peterson, Joseph G. Schofield, Jas. Carlos Allred. Treasurer; Lauritz O. Larsen, librarian. These served until 4 November 1889 when a reorganization was affected.
It was while Alvin was working at the lumber mill that te became acquainted with Maria J. Borresen who was one of the cooks for the men. He was quite attracted to her even though he had been more interested in other girls. She was also interested more in the young men who always attended the dances. Alvin had net been doing much dancing. Maria contracted a sore throat or tonsilitis, and Alvin became very solicitous and helped her to treat her throat. He was quite studious when not working, and had brought his books along from which he was studying. To tease Alvin she hid his books and then this couple enjoyed some pleasantries. Maria had not been inclined to think much on the subject of "loving, but when Alvin's name was spoken in fun before Maria' mother, Anniken Borresen, Maria would say in jest, "Oh, Mother, he might become your son-in-law." Maria's mother replied, "And thankful and happy I should be because he is of a very fine and good family. I know his people."
Their days of courting were not many. Soon it was agreed they were serious in their affections for each other. They loved each other truly. On 20 February 1885 they were married by Bishop James A. Allred. The wedding took place at the home of the bride's mother and attended also by her sister Mary Christena, best friend Sarah Elizabeth Ashworth, the Johnson's, neighbors.
Alvin continued his work and Maria stayed at her mother's home until Spring. In May they moved into their own home across the street from Alvin's parents. Crops were planted in Chester after the spring plowing. During the summer work at the mill was resumed. On 28 November 1886 a lovely baby daughter was born to Alvin and Maria. They named her Zella Beatrice, and a healthy baby she was, and the delight of her parents and grandparents. Maria almost lost ter life at the time of Zella's birth, and it was a struggle for months afterward for her to live. But through the administration by the Priesthood and the faith exercised by loving friends and relatives, she became well again, through the Lord's favor.
Maria was privileged to attend the dedicatory services of the Manti Temple in May of 1888. And the following December Alvin took her into the Temple where they received their endowments and were sealed for time and eternity. Zella was sealed to them. Maria was given a special blessing for the restoration of her health on conditions of obedience to the gospel. She was healed. The following Spring on 7 April 1889 a son was born to them named Vance Erin.
Alvin was actively interested in civic affairs. For one term he served as town marshal. But Maria discouraged him from serving another term because of anxiety for his well-being.
A third child, a daughter, Vay Althea, was born 15 September 1891. And a fourth, a daughter, Jennie Vilate, was born 22 September 1893. The following Spring of 1874 the family moved to Chester, where Alvin procured a 40 acre farm. A house was erected a little distance north of the road near Chester reservoir. The waters of which were under Alvin's care. He being in the Irrigation Company While living here he was elected county assessor for Sanpete and served for one term, 1897-1898.
Alvin Edson was the fifth baby, born on 5 August 1896 in Chester. Io give his older children a nearness to school, Alvin removed to Spring City in the spring of 1897. He continued to care for the farm. For several years till about 1904 he was manager and custodian of a fine opera house which was on the next block east of the Allred home.
On 29 April 1899 their 6th child, a daughter named Odessa Charlotte, was born. Every child was welcomed to the humble home and brought joy to the family.
Alvin had built a small brick store, on Main Street. At various times he worked as a surveyor, made many deeds and kept township plats. For many years he served as a notary public until the time of his passing away. Two other children were born to these thankful parents: Floyd Dallin 18 June 1902; and Leslie Ferdinand, 12 November 1905 Both were also healthy and strong children. Alvin filed an application for a homestead on a piece of land of 160 acres about 2 ½ miles southeast of town. A frame house he had taken to this 'ranch' He cleared away and burned brush and erected a fence on one or two sides of it. All of the children received a common, or public school education. Several were privileged to attend high school in later years.
At the time of the birth of her 7th child, Maria received an injury, the effects from much weakness appeared to promote the growth of a malignancy. It affected her right breast and she suffered much distress. After an examination be Doctor William P. Winters, it was advised that surgery be given on 23 March 1909. Maria was taken to the hospital at Mount Pleasant. The growth was removed by Doctor Winters assisted by Doctor Stewart and another doctor from Salt Lake City. Alvin stood by her and remained at the hospital much of the time. The doctors marveled at her quick recovery. In ten fays the incision was healed sufficiently for her to return home. Although it was fully a year before her right arm was able to be raised to her head. It is sure that a complete cure was effected. No further trouble was caused. Father Alvin and the family exercised much faith, along with relatives and friends, that she was healed; our Lord graciously spared her life to us.
Father Alvin had said that he would prefer that he could go through the ordeal instead of mother Maria. Two years following her illness he became seriously ill. For many years he'd suffered with almost no complaining. As a result of on accident sustained when he was a young man working at the lumber mill, his health failed completely when only in early middle-age. He became paralyzed in his feet and then his legs, as a result of which he passed away 27 April 1911 at the age of fifty-one years. It seemed so untimely.
An impressive service was held, the first funeral to be held in the new stone chapel. Speakers were John P. Johnson and James W. Blain, his neighbors and friends. Both dwelt with appreciation on his faithful life; a good friend, a kind neighbor, a loving and devoted husband and father. There were eight children and a widow to mourn his passing.
O that we, his children, will follow the example of our dear father as he said in quoting the words from Saint Paul, the Apostle. "Use reason, reflection, observation, experience, to acquire true knowledge. Hold fast that which is good."
May our Lord bless and rest his soul in peace 'til me meet again.