Dear Relative Letter Tells of Early Allred Research
This is a transcription of a letter detailing some of the efforts made by our Allred cousins doing research in the 1930s. A copy of this letter was provided by Dawnell Griffin in 2009 and transcribed by Linda Allred Cooper.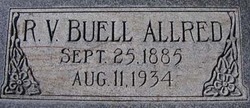 The letter was written by Rudger Van Buell Allred (1885-1934)
Lineage:  Rudger Van Buell, James Henry, Paulinus Harvey, Isaac, William, Thomas, Solomon born 1680 Lancashire, England

The letter recipient was William Orbie Allred (1898-1961)
Possible Lineage:  William Orbie, George Washington, Stokeley, Theophilus, Francis, Solomon, Solomon born 1680 Lancashire, England  (The relationship of Francis to Solomon to Solomon 1680 needs more documentation and is tentative for now)
(From) Lehi, Utah
April 20, 1932

(To) William O. Allred
Road Fork, Kentucky

Dear Relative:
We received your record some time ago. Many thanks for the same. You ask about a copy of the records of the Allreds. We have inquiries from Allreds from all over the USA asking us for a history and as to what it will cost. We have been working, gathering records off and on for the past 30 or more years and we now have some 10,000 names of Allreds in America and England.  But we have not got these 10,000 names connected up into families so as to make a good history of the Allred family. We are glad there is a growing interest among the Allreds of America for a history of the family.

A year ago a Mr. Redrick Allred of Arizona sent us $250.00 to do research work for the Allred family so we decided to send my brother, J. U. Allred, from Alta, Canada, back to North  Carolina, Tennessee, and Georgia the home of the
Allreds of America and he spent about 4 months of hard work searching old deeds, wills, marriage records and etc. for information about the first and oldest Allreds coming to America. He was so successful in his work and received so much valuable information and he was so well treated by the Allreds of those states that at a meeting of the Allred Genealogical Society held in Salt Lake City on April 10th we decided to try and rain (sic) in another $300.00 and send him back again next winter.

At the close of the meeting, an old Allred lady came up to the President of the Society and gave the first $1.00 toward the $300.00 and she said her only income was $400.00 per month which she receives from the Old Folks Pensions of her County. She further stated that she does some nursing among the sick and if she is successful, she would pay another $1.00 later. Now if we were all as loyal as this old soul, we could make not only a history but histories of the family.

We invite you all to join us in this big job and let us all hope that in the near future we can print a history of our large family.  I am in poor health and am not able to work so I spend what strength I have in writing letters and gathering records and information of the Allreds.  It is a very interesting work and I enjoy it very much and instead of spending money to go to shows or other amusements, I take all the nickles we can spare and buy stamps and envelopes etc, and I sometimes write 6 or 8 letters a day. So you see in time I will gather a good many records which I hope will always be used for the good of the Allred family, as no doubt in time these records will be used to make a history of the family.

Some years ago there was an Allred, John Allred, gathering some records of the Allred family and because the rest of the Allreds would not help him he became angry and refuses to let any person have the records. He is now sick and has been for years and he is now an invalid and has two nurses wheel him about in a wheel chair in one of the resorts of Florida. We would like to find him. Perhaps if we could find him and would agree to put our records in with his and make a history he would cool off. 
I wish you would give us the name of other Allreds in any part of America. Also if you would give us the name and address of some electric light company of your part of the country then we would write them and ask them to give us the names of Allreds using their power. Also, you may find some Allreds by looking in the city or county directories.
Thanking you for this favor.

Yours Very Truly
Buell Allred

P.S. I haven't had time to go into the records that my brother got in regard to your family line but when we get so we can trace your family we will write you. At present our records show you are the son of George W. Allred son of Stoakley, son of Theophilus Allred and Miss Bowman born 1801 in Tennessee. Do you know your Great Grandmother's given name?

Editor's Note: The information collected by Buell Allred, his brother, J. Urban Allred, Louis Ephraim Allred, and others eventually was included in the book, The Allred Family in America, published by Rulon C. Allred in 1965. The late J. Urban Allred of Raymond, Alberta, Canada, and later, Logan, Utah, traveled to over twenty-two states, during his two research trips, and collected over 1,500 Allred and kindred names.  During the summer of 1946, he made his last trip to North Carolina and attended the Allred Reunion in Randolph County.