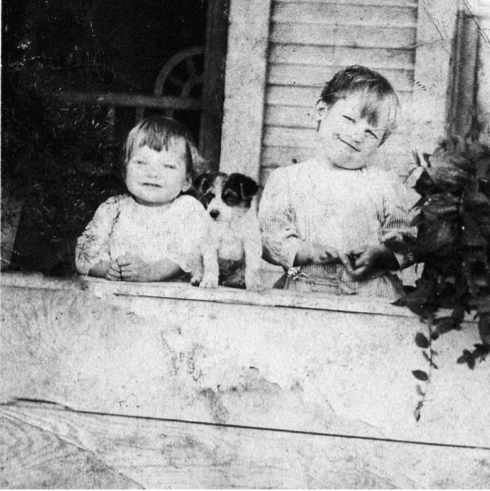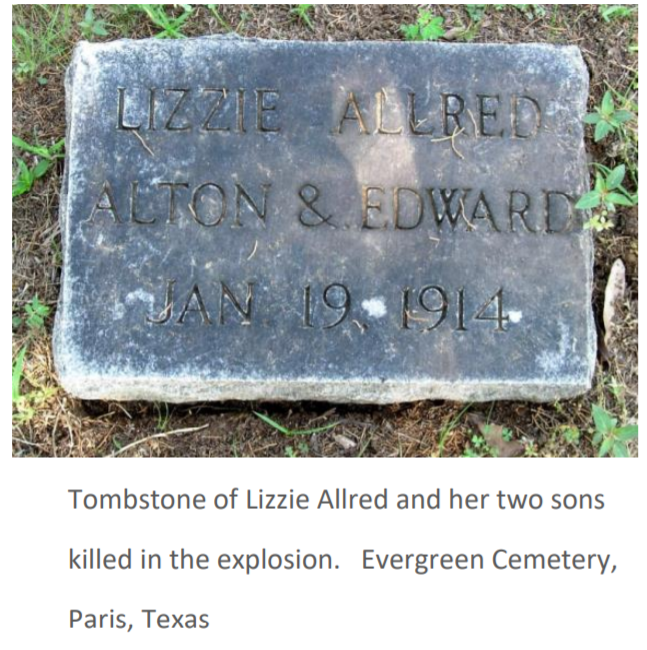 Allred Family Tragedy in Paris, Texas
by: John Allred
Dublin, Ohio
My dad was named Cleveland Russell Allred at birth but growing up, everyone called him "Teeny". I never did learn how he got that name. He lived for just under 81 years (1884 – 1966). During those years he had his ups and downs like everybody else but January 19, 1914 had to be the worst day of his entire life.
It was likely a nice day in Paris, Texas because the normal high for January in Lamar County is the mid-fifties and the normal low is low-thirties. Dad had a job driving a horse-drawn delivery wagon for the Lamar Oil Company. Late morning, a co-worker spotted smoke coming from the Southern part of town where he knew dad lived. He suggested that dad should go home to make sure everything was okay. Dad hurried home. When he arrived, he found a smoldering pile of wood where his house had been. Lost in that debris were his wife and two young sons, killed instantly by an explosion. By the time he arrived, firemen were spraying water from a nearby slough on the remains of the fire so the bodies could be recovered.
Lizzie, who was the daughter of James and Addie (Hopper) Welch, was 18 when she and dad were married in Paris on December 30, 1906. Dad was 22. Just a week before their wedding, dad's sister Bess (actually Emma Elizabeth) married Lizzie's brother, John Welch. Lizzie and dad settled down as a part of their large extended families in Paris. Their first child, Alton Allred, arrived in May of 1909 and the second, Edward, was born in May 1911. At the time of the fire, Lizzie was 26. Alton was four years and eight months old and Edwin was two years and eight months. The accompanying picture of the boys along with Teddy, the family dog, was obviously made shortly before their deaths.
Dad never talked to me about the fire and mother knew only a little about it which she shared with me. Then I found an article in The Commerce Journal on Ancestry.com. The newspaper was published in a neighboring town of Commerce, Hunt County, Texas. The article on page 8 titled: EXPLOSION OF GASOLINE causes death of mother and two children, gave vivid details about what happened. Lizzie was visiting a neighbor, Mrs. Lindsey, the morning of January 19 and hurriedly left as she told Mrs. Lindsey she had to go home and "fix dinner". Less than 10 minutes later, at about 10:30 a.m., there was an explosion "that made the earth tremble and shook other houses in the neighborhood". The house was totally destroyed and the three inhabitants were killed instantly.
Subsequent investigation showed that dad had brought home a can of gasoline a few days earlier and left it on the "back gallery" (porch?). It was supposed that Lizzie had intended to start a fire in the kitchen wood stove using coal oil and picked up the gasoline can by mistake. Gasoline poured on hot coals left from cooking breakfast would have resulted in the massive explosion. I never learned why dad brought the gasoline home although it was a novel product in 1914 made available to him because he worked for the Lamar Oil Company, which is still in existence today. Perhaps he, along with most of humanity, had not yet understood how dangerous it was. For whatever reason, dad had to live with the knowledge that bringing home that can of gasoline led to this tragedy. No wonder he never talked about the fire – it must have been too painful!
Dad's family was buried, sharing a single tombstone. After the funeral, dad left Paris for parts unknown. His next location that I have been able to find was in Soper, Choctaw County, Oklahoma running a small store and post office a year and a half later. It was there in July of 1915, he met my mother, Viola Snell, working on the Snell family farm. On October 10 of that year, they were married in Choctaw County. Eventually they had nine children together, eight of whom lived to adulthood.