Ellen Allred
Allred Lineage:  Ellen, Onie Roy, John Julian, Elijah, William, William, William, Solomon born 1680 England
Born 12/24/1918 Boyd, Wise County, Texas
Died 4/13/2000 Springfield, Greene County, Missouri
Submitted by:  Kim Thornley Kovar  6/17/2018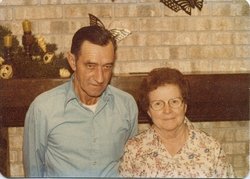 I could go on and on about my grandmother.
My grandmother was born Ellen Allred on December 24. I believe the year was 1918. She had no middle name. Her dad was Onie Allred. She was born in Texas and passed in Missouri while staying with her youngest daughter, Kathy Lee Harrison. She passed in April of 2000.
Grandmother and her husband, Freddie Page Harrison, owned a dry cleaners in Stinnet, Texas. He passed when I was a girl, in 6th grade. She passed in or about 2000. When she retired, she went to live with her daughter, Nancy Ellen Harrison Cole. She and my grandfather are buried in Hobart Rose Cemetery in Hobart, Oklahoma.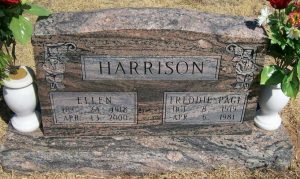 My brother and I used to go stay the summer with her and help in the dry cleaners. It was so much fun! There was a small grocery store on one side of the dry cleaners and a Dairy Queen on the other side. Grandma would let us get change out of the register to walk next door and get ourselves a cherry coke. We thought that was the greatest thing in the world!
She died of complications due to diabetes. I've been told that Onie (her father) and John Julian (her grandfather) had problems with diabetes also. She had gotten both of her legs amputated at different times, after she had retired. One just above the knee and the other, right below the knee. This is when she moved to Missouri to stay with my aunt Kathy.
I loved and admired my grandmother so much, I named my daughter after her. My daughter's middle name is Ellen.