Eleanor Roosevelt allowed her daily Diary to be published in newspapers around the country whenever she traveled as First Lady of the United States.  The following is an example, published on page 7 of the The Oklahoma News, Oklahoma City, OK on March 22, 1937.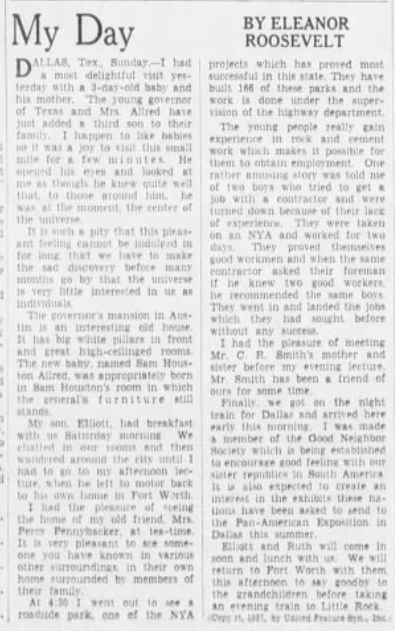 The Baby:  Sam Houston Allred in 2008

MARCH 21, 1937 DALLAS, Sunday
A Diary Entry written by Eleanor Roosevelt
The original diary is available online at George Washington University (https://erpapers.columbian.gwu.edu/why-publish-eleanor-roosevelt-papers)   The diary entries were also published in newspapers across the country.  
I had a delightful visit yesterday with a three-day old baby and his mother. The young Governor of Texas [James V, Allred] and Mrs. Allred have just added a third son to their family and I happen to like babies, so it was a joy to visit for a few minutes this small mite who opened his eyes and looked at me as though he knew quite well that to those around him he was at the moment the center of the universe. It is such a pity that this pleasant feeling cannot be indulged in for long, and that we have to make the sad discovery before many months go by that the universe is very little interested in us as individuals.
The Governor's Mansion in Austin is an interesting old house, with big white pillars in front and great big high-ceilinged rooms on the interior. The new baby named Sam Houston Allred, was appropriately born in Sam Houston's room in which the General's furniture still stands. My son, Elliott, had breakfast with us Saturday morning and we chatted in our rooms and wandered around the city until I had to go to my afternoon lecture, when he left to motor back to his own home in Forth Worth. I had the pleasure of seeing the home of my old friend, Mrs. Percy Pennybacker, at tea time. It is very pleasant when you have known someone in various other surroundings, to finally see them in their own home, surrounded by members of their family.
At four-thirty I went out to see a roadside park which is one of the NYA projects which has proved most successful in this state. They have built one hundred and sixty-six of these parks and the work is done under the supervision of the highway department, so the young people really gain experience in rock and cement work which makes it possible for them to obtain employment. One rather amusing story was told me of two boys who tried to get a job with a contractor and were turned down because of their lack of experience. They were taken on an NYA job and worked for two days, proved themselves good workmen and when the same contractor asked their foreman if he knew two good workers, he recommended the same boys. They went in and landed the jobs which they had sought before without any success.
I had the pleasure of meeting Mr. C.R. Smith's mother and sister before my evening lecture. Mr. Smith is President of the American Air Lines and has been a friend of ours for sometime. Finally we got on the night train for Dallas, arrived here early this morning and I was made a member of the Good Neighbor Society which is being established to encourage good feeling between us and our sister Republics in the south. It is expected also that it will create an interest in the exhibits these nations have been asked to send to the Pan American exposition in Dallas this summer.
Elliott and Ruth will come in soon and lunch with us and then we will return with them to Fort Worth this afternoon to say good-bye to the grandchildren before taking an evening train to Little Rock. E.R.