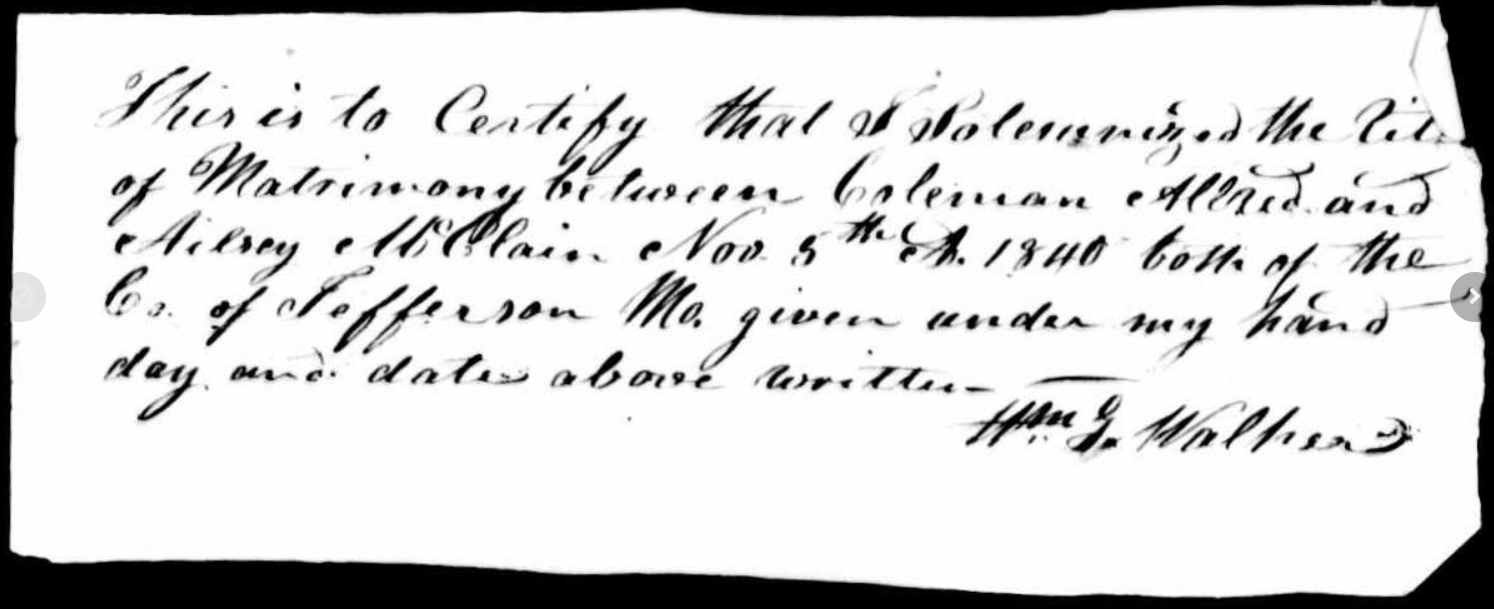 Marriage Record found on Ancestry.com (No specific citation included)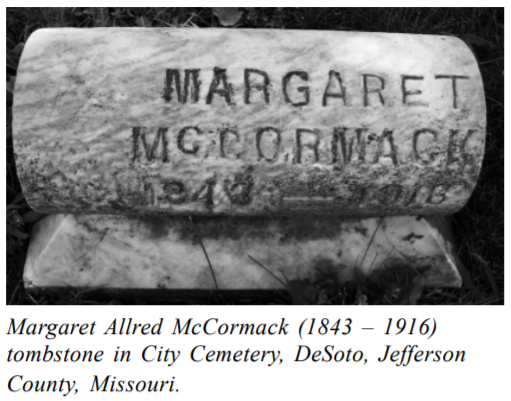 Why the Allreds left Jefferson County, Missouri for Lamar County, Texas
By:  John Allred of Dublin, Ohio
Lineage:  John, Cleveland Russell, William Russell, Coleman Scott, Samuel, Elias, Thomas, Solomon born 1680 Lancashire, England
When I learned in school that the United States was a country of immigrants, I asked my father where we came from. His answer was that we were "ScotchIrish." We now know that our Allred ancestors were definitely English from Lancashire, England, and not Scotland or Ireland. And if you go to Britain today, you dare not call an Englishman a Scot nor, worse in terms of the fury that you would raise, you best not call a Scot an Englishman! I am not sure where Dad got the idea that we were "Scotch–Irish" but it probably came from family stories. And if you consider the extended family, the term arguably fits.

Take Peter Patrick McCormack, for example. He is not directly related to the Allred family but his descendents were certainly entangled with ours. Peter Patrick was born in Dublin, Ireland, in 1753.  Since his father came from Scotland to Ireland, he could be described ethnically as Scotch-Irish but that term was originally not just an ethnic designation. Rather, it actually was used to describe a specific group of immigrants sent to Ireland from Scotland and Northern England by King James I of England (James VI of Scotland) to colonize land confiscated from Irish nobility in what is now Northern Ireland. The Scotch-Irish immigrants were protestant (primarily Presbyterian) while the rest of Ireland was almost exclusively Catholic, a religious division still seen today.

Peter Patrick McCormack (1) emigrated from Ireland to the Colonies in time to fight against the British in the Revolutionary War. After the War, he migrated west to Kentucky and then in 1801, he joined a trading party that was going west of the Mississippi to what was then called Louisiana and is now the state of Missouri. When he was there, he made claim to land that included what is now the
town of DeSoto, Jefferson County, Missouri. He went back to his home in Kentucky and in 1802 brought his family down the Ohio River and then a hundred and fifty miles up the Mississippi in a crude, wooden keel boat. They landed at Plattin Rock where Plattin Creek joins the Mississippi River. The land that he thought he had claimed a year earlier had been taken over by Indians. Since the land was not yet a part of the United States, he made application to a representative of the Spanish government (who supposedly had control of the territory (2) for another property of about 380 acres, located about 12 miles up Plattin Creek.
Peter Patrick McCormack's family consisted of his two sons, James and Hardy Watson McCormack, his second wife, Isabella (3) and her two children, son Joseph and daughter Elizabeth with Elizabeth's husband, Jeremiah McClain, who also figured very prominently in the Allred family fortunes. Elizabeth and Jeremiah McClain staked a claim to land near the headwaters of Plattin Creek.  The area was the Indian's winter camp ground because of the abundance of game and, for this reason was called "Indian Bottom."

Both the McCormack and McClain families prospered; growing crops in the rich Mississippi River valley and raising children to work on the farms. In addition to the two children that each of them brought into the marriage, Peter Patrick and Isabella McCormack had four children born in Missouri: Peter Patrick, Jr., Ann, Polly Alexander, and Margaret McCormack. Elizabeth and Jeremiah McClain had 13 children born between 1810 and 1830: Isabel, Ann, Peter Patrick, Lucinda, Jeremiah, Matilda, Mary Polly, Alcy Ann, Melinda, John Read, Margaret Elizabeth, Nancy Jaine, and Joseph McClain.

It is not clear when Samuel Allred showed up in Jefferson County but it was well after the McCormack and McClain families arrived. We know that Samuel Allred was born in Randolph County, North Carolina in 1791, the seventh child of Elias and Mary (Polly) Rigby Allred. Although the record indicates that his parents, Elias and Polly, moved from North Carolina to South Carolina in about 1815 and subsequently to Georgia in 1827, Samuel apparently took that path earlier because it is reported that he married a woman named
Elizabeth (Mitchell?) in Georgia in 1815. Their son, Coleman Scott was born in either Georgia or Tennessee in 1817, (depending upon which census record one believes).
Samuel and Elizabeth Allred had at least four other children in addition to Coleman Scott, namely, William J., John Hicks, James, and Elizabeth Angelina Allred. Since Elizabeth was born in Alabama in 1828, the Samuel Allred family must not have come to Missouri until after she was born. 
The first available evidence of the presence of Allreds in Missouri was that Samuel Allred was listed as head of the family in Washington County, Missouri, adjacent to Jefferson County, when the 1840 census was taken.  It was in Jefferson County that the Allred, McClain, and McCormack families became connected through the marriage of Coleman Scott Allred and Alcy Ann McClain. Coleman was the eldest son of Samuel Allred and the grandson of Elias Allred, Senior. Alcy was the daughter of Jeremiah McClain and the step grand-daughter of Peter Patrick McCormack.

The intermarriage between the families continued after that; Coleman and Alcy Allred had eight children, two of whom married McCormack brothers. Margaret Elizabeth Allred, born in 1843, married Peter Alexander McCormack on March 21, 1861. Then Mary Clarissa (Clara) Allred married Hardy Constantine McCormack on February 12, 1865. Peter Alexander and Hardy Constantine
McCormack were the sons of Peter Patrick McCormack, Junior, and the grandsons of Peter Patrick McCormack, Senior.  So the three families, the Allreds, McClains, and McCormacks, became related by blood or marriage which insured that several members of those families would share a future together. Eventually the three families owned substantial amounts of land in Jefferson County.

In the second half of the 19th Century, life was good for these pioneering families! Some of the younger members of the three families left Jefferson County to search for greener pastures but many stayed, acquired more land and became very prosperous. They were living in an area that was almost perfect for agriculture. In the Mississippi River bottom, the soil was rich, the rains came often enough and water to transport their produce to markets was near at hand. Even the floods which inevitably happened were a blessing. Those floods brought fresh nutrients just as the flooding of the Nile brought nutrient rich silt and made the Egyptians prosperous.

But then came "Old Uncle Will" – and the lives of many of them would change dramatically, forever!  Old Uncle Will was William F. McCormack. He was the son of Hardy Watson McCormack and grandson of Peter Patrick McCormack, Senior.  William F. McCormack married Nancy Jaine McClain on May 26, 1848. Nancy was the daughter of Jeremiah McClain and younger sister of Alcy McClain Allred. With this short listing of relatives, it is easy to see why William was called "Uncle Will" – because he was either an actual or
honorary "uncle" to the Allred, McClain and McCormack families. What is important to our story is that William F. and Nancy Jaine McClain McCormack were the parents of three children, the youngest of which was Eldora McCormack, born about 1860. She married young, perhaps as young as 16, and moved to Texas. Her father, "Old Uncle Will" visited her there and came back to Missouri "crusading for Texas as the land of milk and honey"!

What happened next is described in a delightful little book (4) by Earl Emmett McClain, a great grandson of Jeremiah McClain, written in 1961.  Based on the stories in this booklet, "Uncle Will" must have been much loved and well respected as well as a terrific salesman because, on his word, several of the pioneering families, including the Allreds and their extended family, left Jefferson
County and moved to Lamar County in Northeast Texas.

The year of this mass migration appears to be about 1878, based on the year and place of children births of those families that moved. It is not clear who all went because many of those who did so soon came back to Missouri and, according to Emmett McClain, were "cursing Uncle Will and Texas" upon their return. Some, including the Allred extended family, stayed.  The Allreds quickly settled in.
The 1880 census shows that Coleman and Alcy McClain Allred were listed next to their son, William Russell and his new wife, Emma Ashley Allred. Emma's mother Caroline Ashley Crosslin and her son, John Byron Ashley, were also listed as head of household in adjacent residences. Not far away, Hardy Constantine and Mary Clarissa (Clara) Allred McCormack were listed with six children. John Wesley, eldest son of Coleman and Alcy, and his family were in a neighboring precinct.
The serenity of East Texas was not to last. During the 1880s, a series of tragedies hit the Allred family.  The mother, Alcy McClain Allred, died in 1884 a year after her daughter, Mary Clarissa Allred McCormack died at the age of 37. Even more tragic was the death of Alcy Ann McCormack Bancraft (5) who died at the age of 21, probably in childbirth.  Meanwhile, back in Jefferson County, Missouri, there were two individuals, born with the surname of Allred, who chose not to be part of the great migration to Texas.  James Franklin Allred stayed in Jefferson County until his death in 1908. Margaret Allred, who had married Peter Alexander McCormack in1861, lived in DeSoto, Missouri until she died in 1916. With her death, the Allreds disappeared from Jefferson County after being residents there for almost a century.

But by then, the Allreds were flourishing in Lamar County, Texas. The transition was complete.  "Old Uncle Will" was William
F. McCormack, b. 1827 to Hardy Watson McCormack.  He married Nancy Jaine McClain, daughter of Jeremiah and Nancy McClain and sister of Alcy McClain Allred. It was Uncle Will that convinced the pioneer families in Jefferson County, Missouri, that Texas was the place to go!
End Notes
(1) See The Heritage News, Jefferson Heritage and Landmark, February, 1993. http://www.rootsweb.ancestry.com/~mojchs/HeritageNews/HeritageNews/10February1995.pdf

(2) The land area that eventually became known as the Louisiana Purchase belonged to Spain from 1763 until 1800 when France's Napoleon Bonaparte reacquired Louisiana from Spain but the arrangement was kept secret for some two years because of Napoleon's
ambitious plan to build a new empire west of the Mississippi. Napoleon did not have the money to carry out his grandiose plan and, in fact, was so short of cash that the United States was able to buy the Louisiana Purchase in 1803 for $15 million.

(3) Peter Patrick McCormack and Isabella Alexander Hynes married in Jefferson County, Kentucky, on March 20, 1800 [Kentucky Marriages. 1802-1950]. Both were widowed and each had two children.

(4)  "The Jeremiah McClain Family" by Earl McClain was self published and had a limited distribution. It is available in the DeSoto, Missouri City Library where we found it and perhaps the Los Angeles, California, and the Saint Louis, Missouri Public Libraries where it was deposited by Earl Emmett McClain.

(5) "Annie" McCormack married Elmer T. Bancraft on October 11, 1883, in Paris, Lamar County, Texas. She died three years later; her tombstone had the name "Alcy Bancraft" even though census and marriage records recorded her name as Ann, Anna or Annie. Most likely, she was named Alcy Ann after her grandmother, Alcy Ann McClain Allred but was not called Alcy as long as her grandmother was alive.