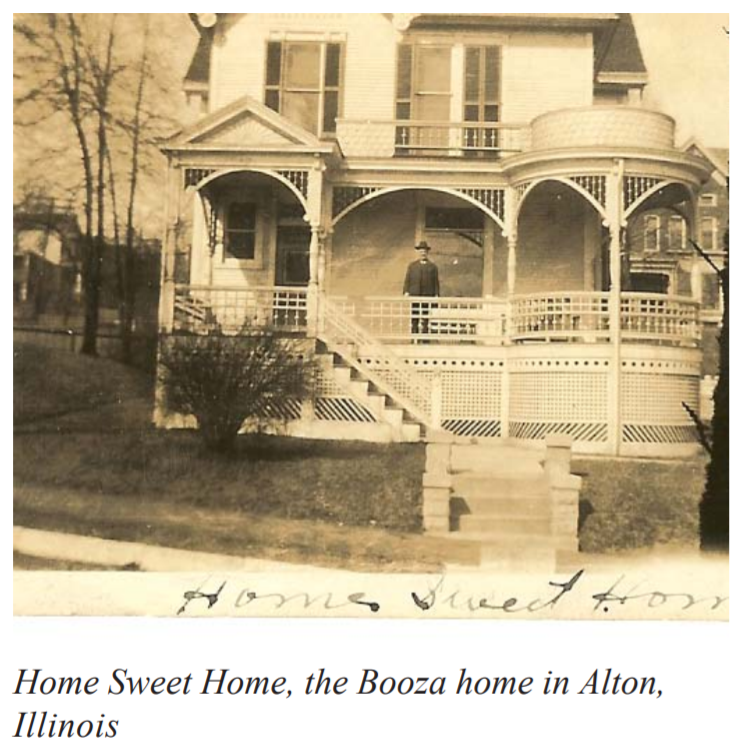 The Bozza and Allred Family
by Jack Bozza
Great Grandson of Elizabeth Allred and James Bozza, Sr.
Allred Lineage:  Elizabeth, Thomas, Moses, Thomas, Solomon born 1680 Lancashire, England
Elizabeth Allred her husband, James Bozza, Sr., were parents of 16 children. Several of their children died as children or youths. James Bozza was born March 27, 1827, in Austria in what is now Italy. Elizabeth Allred was born In Tennessee April 30, 1831.
After he came to America, he married Elizabeth Allred. They lived a few years along the Mississippi River in Hannibal, Missouri.  Their first son, James T., was born in Hannibal.  He and Elizabeth moved to Alton, Illinois, again along the Mississippi River.  He was a merchant and active in civil affairs He laid out part of the old town of Alton. There is a Bozza Street named for him in Alton. Also, in Alton, several of their young children died and were buried in the Alton Cemetery-Old Yard.  There are no stones or markers for them, but there are cemetery records.

The family moved to Nashville, Tennessee, about 1875. He and Elizabeth, also known as Betsy, are buried in Mt. Olivet Cemetery in
Nashville. James died in San Diego, California, April 29, 1903.  Elizabeth died March 19, 1909, in Louisville, Kentucky. She was living with a son and his family at the time of her death.