Susannah Caroline ALLRED
Allred Lineage - Allred 2 Ways:
1.  Susannah Caroline, William, Patience, Catherine, John, unknown daughter, Solomon born 1680 England and
2.  Susannah Caroline, William, William, William, Solomon born 1680 England
Born: 08/17/1842
Died: 12/04/1935
Submitted by: Sharon Allred Jessop 11/09/1999
HISTORY OF HENRY "HACK" HARRISON & SUSAN CAROLINA ALLRED LASSITER
Written by Mr. & Mrs. Hubert Keuneke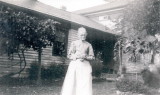 They were married on 12 March 1862. The Civil War years were from 1861 to 1865. Their first child, a son, Wm. "Coy", was born on 17 July 1863. Grandpa (Hack) had a choice of going either to the army or to the Salt Works. Se he chose the Salt Works. When the opportunity arose, Grandpa escaped from the Salt Works and came up to Baltimore, Maryland by a small boat on the Atlantic ocean, along the coast. He worked his way over to Huntington County, Indiana, where his sister-in-law, Patia Ann Hammond was living already at that time. Somehow he got word back to his wife, Susan (grandma) that he had made it safely to her sister's place in Huntington County, Indiana.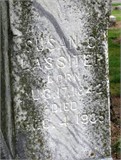 In 1865 when Wm. "Coy" was two years old, Grandma, with her son, made her way to Huntington County to join her husband. She came by horse back, wagons or any way she could. They had to cross the Mason-Dixon line to come to Indiana. But before they could cross the line, each person had to swear, with their right hand held up, that they would treat the Negro as equal, otherwise they couldn't come across.
Others of the Allred family must have come up this way before or after Grandma, as Grandma's father, William Allred, (b. 10/11/1798 d. 7/30/1886) and her mother, Rachel Allred (b. 2/3/1804 d. 3/6/1888), brother Abner Allred (b. 10/13/1836 d. 2/9/1911) her sister Patia Ann Allred Hammond, (b. 1832 d. 7/5/1905) and her husband Nathan Hammond (b. 1883) and Abner Allred's wife Malinda M. Abbott Allred (b. 6/3/1842 d. - No date on stone.), are all buried in Mt. Etna Cemetery.
Grandma's grandmother's father's last name was Coltrane. The story is told that he was fount in a basket, floating off the shores of Scotland. When he was found, the weather was cold and rainy, that is why he was given his last name as Coldrain.
Grandpa and Grandma's next child was born 31 Dec 1866. That was James. They settled south of Andrews, Indiana, on a farm which they had te clear off so they could farm. They had the rest of their family in Huntington County, Indiana. The nick- named their children as follows: Coy, Jimmy, Dellie, Pete, Allie, Ina and Henry.
In 1891 Grandpa and Grandma decided to go back to North Carolina to visit. Grandmas sewed up a gold velvet dress for their trip. It had been 27 years since they had seen their family ties and friends there in the south. They left home on 1 Oct 1891, going by train, taking 25 hours.
In their letters which they wrote back to their family they stated the following: The crop of peanuts, persimmons, acorns and corn was good for North Carolina. One of their meals there, they had opossum which was so good.
They also wrote of bringing back a peck of peanuts and some figs. Grandma weighed 107 pounds and Grandpa weighed 162 pounds was mentioned in one of their letters They started for home on October 28th and got into Andrews, Indiana on October 29th.
Grandpa was a lover of fine horses. He had a stallion, raised horses and had stallion service for other people's horses. He liked Jimmy and Dellie to break the colts to work. Jimmy would take the stallion named Bismark to the fairs to show him.
Grandma was well educated for these times. She was a proud woman and a staunch Republican. She was a patriotic citizen in many ways. She was a strong-willed and high tempered woman. She let everyone know what was expected of them.
Later they moved to a farm east and south of Zanesville, Indiana on 20 March 1901. They celebrated their Golden Wedding Anniversary in 1912 and Grandma wore her gold velvet dress for this big occasion in their lives.
Grandpa died 8 Sept 1913 at the age of 73 years. Grandma died 4 Dec 1935 at the age of 93 years.
They are both buried in Union Town Cemetery, located just less than ½ mile south of their residence (across the road from their farm). Patia "Ina" Lassiter and Henry Abner Lassiter are buried in this same cemetery.
As the Lassiter cousins get together they still have a good time relating stories of Grandpa and Grandma.
The Lassiter Reunion was started, having their first reunion in 8 Sept 1963, meeting at a half-way point at Jackson, Michigan. As the cousins are in and around Huntington, Indiana and in and around Caro. Michigan areas. A few years later the reunion was move to Marshall, Michigan where it is held at the present time.