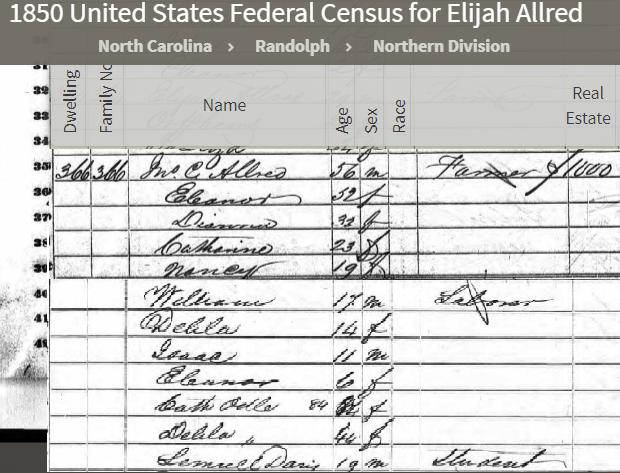 John C. Allred Bible Record found on Ancestry.com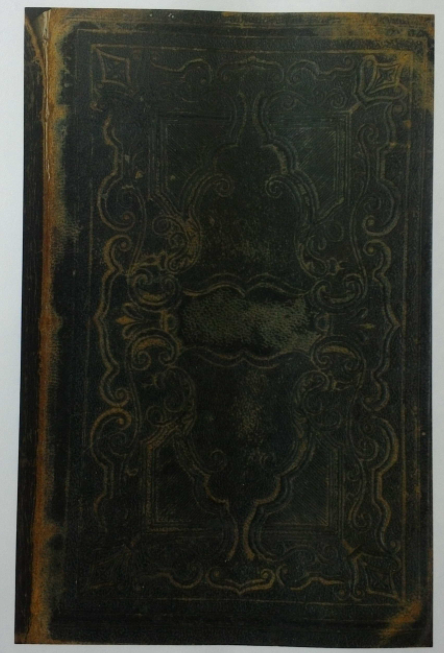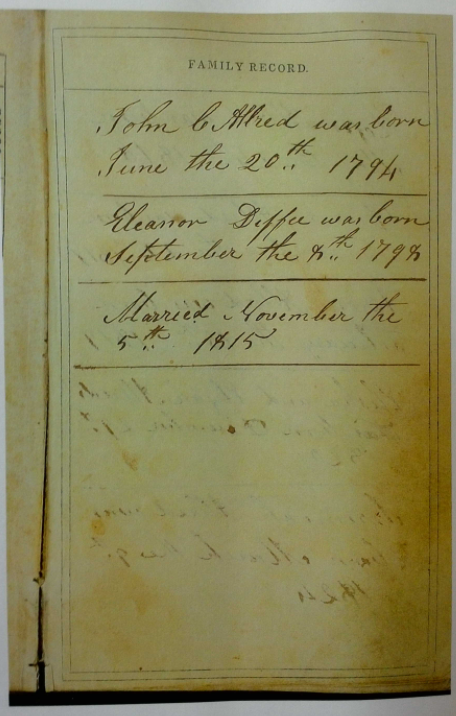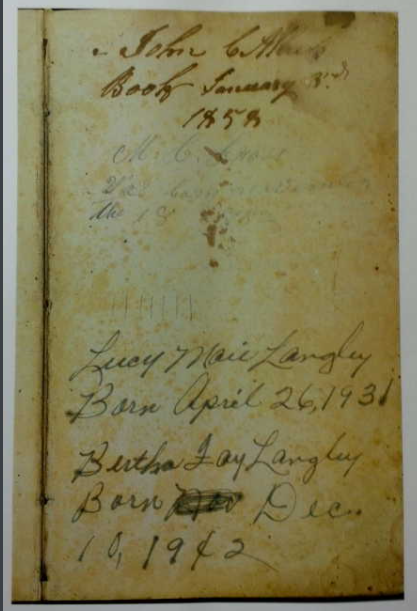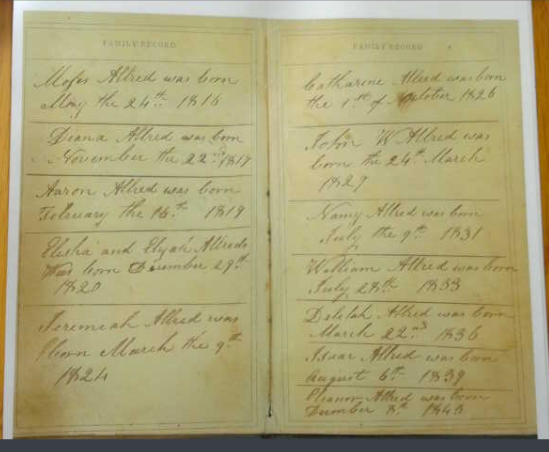 John C. Allred
1794 - 1873
by Dawnell H. Griffin
Disclaimer:  Many people believe John's middle name was Calvert but no documentation has been found to prove what his real middle name was. 
From Linda Allred Cooper 6/24/2021:  New research using DNA results and court/land records should be released soon that will prove who Catherine's parents were.  Stay tuned.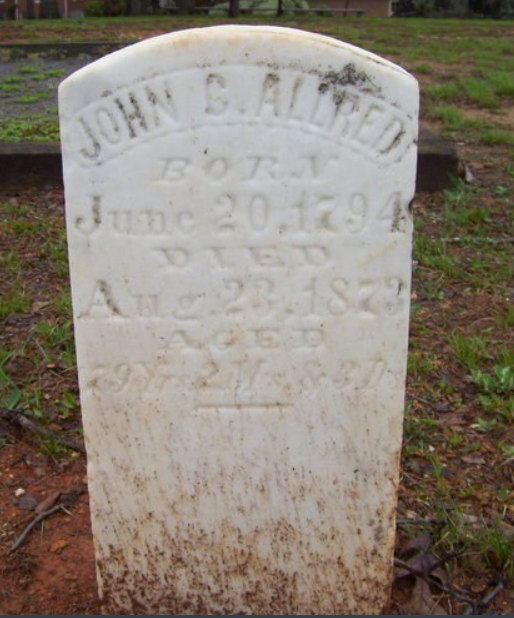 John C. Allred was born June 20, 1794, in Randolph County, North Carolina.  We know only that his mother's name was Catherine.  It is possible that he was the illegitimate child of Catherine Allred [born about 1766], or that his mother was a widow at the time of her marriage to Isaac Odell in 1802.   John would have been eight years-old when his mother was married to Isaac.  We have no proof that there were other Allred brothers and sisters, but a half-brother, Isaac was born November 28, 1802, and a half-sister, Delilia Odell was born January 13, 1808, both in Randolph County.

Married Eleanor Diffee

On the October 31, 1815, when John C. was about 21, he married Eleanor Diffee,16, daughter of Moses Diffee, also of Randolph County. [Marriages though 1820 Randolph County, NC, comp. By Mrs. Nancy W. Simpson p. 1.]  John C. Allred was born and died in Randolph County, NC. According to census records, he was a farmer. He and his wife settled in the vicinity of Ramseur and began raising a family. A son, Moses Allred, was born on May 24, 1816. On November 22, 1817, a daughter, Dianna was born. Aaron was born two years later [16 Feb 1819] and twins, Elijah and Elisha were born December 29, 1820. It is possible that another child was born and died between 1820 and March 9,
1824, when Jeremiah M. Allred was born.

Catherine was born November 1,1826, John William on March 24, 1829, Doris Nancy on July 9, 1830, William on July
28, 1833, Delilah on March 22, 1836, [probably named for her Aunt Delilah Odell]. There are two more children of
record, Isaac born August 6,1839, and Lucy Eleanor who was born December 8, 1843.

Cedar Falls Bridge
According to miscellaneous records at the North Carolina Archives, John C. Allred along with William Allred, William Trogden and others built a bridge called the Cedar Falls Bridge in 1837.  The 1850 census of Randolph County
indicates, several of the children were already married.
Moses Allred was married to Elizabeth Nicholson [Crothers] on November 16, 1843. [Question - was Elizabeth Nicholson a widow when she married Moses Allred?]
Aaron Allred married Elizabeth Prichard on December 17, 1842;
Elijah married Orpha Scarlett on August 13, 1846;
Elisha married Catherine Steed on April 29, 1847;
Jeremiah M. Allred married Eliza Scarlet on June 26, 1849; and
John William Allred married Jane Redding on October 25, 1849.
John C. And Eleanor Allred appear in the 1850 census with children Catherine, Nancy, William, Delila, Isaac, and Eleanor, age six. Also in the household were Catherine Odle age 84, Delila Odell age 44 and Lemuel Davis age 19, a student. The following year, daughter Dianna Allred was married to Lemuel Davis on April 3, 1851.
Between 1850 and 1860 the remainder of the children married; Doris Nancy to Henry M. Conner on April 12, 1851. She was married only six months before she died on October 3. After Nancy died, her sister Catherine married her widowed brother in-law, Henry, on October 25, 1853. William married Elizabeth Scarlet on January 7, 1854, Delilah to Jonathan J. Rollins on August 3, 1859, and Lucy Eleanor to Alson G. Davis on October 29, 1857. Lemuel and Alson Davis were brothers, sons of William Davis whose occupation was that of a cooper.
In 1860 John Calvert and Eleanor were in their sixties. Living with them were Delilah Odell, son Isaac who was 21 and James H. Allred, age 15. This James was more than likely the son of Elijah, born in 1845 and a grandson of John Calvert and Eleanor. He may have been living with grandparents and helping them on the farm or he may have been visiting when the census taker arrived. Lucy Eleanor had married in 1847. The only remaining unmarried child was Isaac.
Civil War Soldiers
In 1864, Elisha Allred was fighting in the Civil War. He died in May in the Battle of the Wilderness in Virginia. Also fighting in the war was his brother, John William Allred.
In 1866 Eleanor Diffee Allred died, leaving John Calvert alone. Henry Connor was deceased by 1870 and John's daughter Catherine Allred Connor moved home to take care of her widowed father. She brought with her Nancy's son, John H. Connor (who was not only her step-son, but her nephew) as well as her own children and two children of sister Lucy Eleanor Allred Davis who died January 7 in Randolph County and was buried in Giles Chapel Cemetery. William O. Davis was two years of age and little Maggie E. Davis was seven months old. Later these two children appear in the household of their Aunt Dianna Allred Davis.
Buried at Giles Chapel
John Calvert Allred died August 23, 1873, in Randolph County and was also buried in Giles Chapel Cemetery. When his property was sold in November many of his family members bought property. Aaron purchased a lot of iron, one iron axle, a small chest and one table. John H. Connor purchased a leg chain. Jeremiah Allred paid for two harnesses and a sword. Nancy Jennings bought a small chest and Catherine Connor bought a spinning wheel.
Heirs Named
A newspaper notice was printed by the Superior Court of North Carolina in which the heirs of John C. Allred were named. Aaron Allred, Jeremiah Allred, John W. Allred, Catharine Conner, Leonard [sic] Davis and wife Diana Davis, Jonathan Rollins and wife Delilah Rollins, John H. Conner; the heirs of Moses Allred, heirs of Ellen Davis, heirs of William Allred, heirs of Elisha Allred and the heirs of Elijah Allred were commanded to appear in court.  John W. Allred, Jonathan Rollins and his wife Delilah and the heirs of Moses Allred were listed as non-residents of North
Carolina. John William Allred was living in Kansas and the heirs of Moses Allred were living in Indiana.  This was a formality, wherein, J M Conner, administrator of John's estate was petitioning to sell the assets in his hands.
When the final account and distribution of the estate was made to the heirs, the shares remaining amounted to $18.00 a piece.  Some of the children had previously received some of the moneys due them.  Diana Davis wife of Lemuel Davis received $8.00 cash; Jeremiah Allred received for his share $8.00; Catherine Conner received $8.00. John W. Allred who was living out of state was entitled to $18.00; Delilah Rollins wife of Jonathan Rollins also living out of state received $18.00. John H. Conner, the only surviving child of Nancy Allred Connor, received for his part $8.00; J. A. [Julius A.] and Thomas J. Allred, sons of William Allred and grandsons of John Calvert Allred, received $9.00 each as their portion of their father's share. The heirs of Elijah Allred, deceased and heirs of Ellen Davis, deceased received their portions of $8.00 per family to be divided between them. Moses Allred, deceased left to his
heirs who were living out of state, $18.00. This was the final distribution but there are more detailed documents included in the estate records on file in the North Carolina State Archives.