Photos and Obituary of Jerome Bonaparte Allred found on Ancestry.com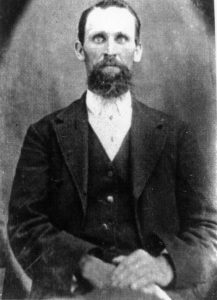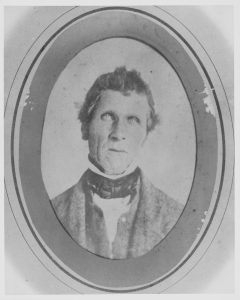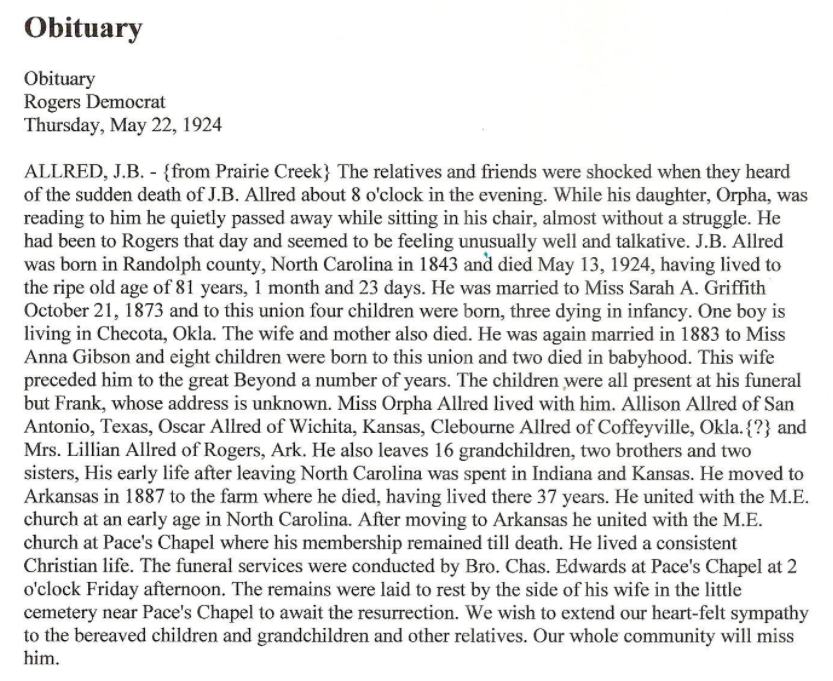 Jerome Bonaparte Allred and the Allied Gibson Family
by:  Dianna Bourke Privette and Edith Wilson Hutton
Lineage:  Jerome, Claiborne, John, William, William, Solomon born 1680 Lancashire, England
The research on these direct Allred allied lines was begun in the 1970s by Louise J. Gibson Allred Bourke and Phylis Gibson Allred Josylin, granddaughters of Jerome Bonaparte Russell Allred and his second wife, Anne Eliza (Elizabeth Anne Slack Gibson). Edith Wilson Hutton and I have continued their research on these lines.

This line of Gibson is a Native American line and believed to be Saponi Indian. References are on the early land records of Orange County, North Carolina, and then Randolph County where they are listed as Mulatto. Even though Thomas Gibson father of David served in the American Revolution from Guilford County, North Carolina, I have not found land records there for him. There is a family of Gibson there who came directly from Scotland and should not be confused with the Gibson family of Orange County and Randolph County.

Jerome left Randolph County sometime after 1860 and went to Hendricks County, Indiana, residing with William Allred and his family on their farm. There he met and married his first wife, Sarah Agnes Griffith, on October 21, 1873. She died July 7, 1881, and is buried in the White Lick Baptist Church Cemetery, Pittsboro, Hendricks County, Indiana, with three of her children. Her surviving child, a son, was Orlando Allred.
Jerome returned to North Carolina with his son, Jerome, after 1881. He is on the 1880 census of Indiana, Hendricks County, Lincoln Township. In the 1880 North Carolina Census of Randolph County, Claiborne Spencer Allred and his sister, Lavina, are living next door to Jesse Gibson, and his wife, Lucinda Slack Gibson, and daughter, Anne E. Gibson.
On December 12 1882, Jerome B. Allred and Anne E. Gibson were married in Randolph County. They removed to Benton County, Arkansas.  Jesse Gibson Gibson [sic] and Lucinda [Auman/Wright] Slack were both born at the farm of either Lucinda's grandmother, Maria Margaret Auman, or on the farm of Henry Auman Slack and wife Sarah [Sally] Wright. At this time, I cannot give a reference for Henry Slack and Sally Wright being the parents for Lucinda. This connection is from William Auman of Randolph County. The following is what I posted several places online, about these families, as the parents of Jesse Gibson are David Gibson and Nancy Gibson Gibson [sic].

Nancy Elizabeth b. 12 Feb, 1852 m. George Cox
Martha Jane, b. 7 July, 1853 m. Calivin I. Moon
Anne Eliza [Elizabeth Anne] b. 24 Feb, 1855 m. Jerome B. Allred
Margaret Louise, b. 1 Dec, 1857 m. Matthew Gilbert Buie
Ruth Emma, b.17 Mar,1860. She is not on the 1860 census, that I can find. I do find them with a son.
John Gibson b. 1/12 of 1860. Between 1860/1870 he died.

In 1870 Ruth Emma is there showing she was

born in 1860. So were they twins? The Slacks are known for twins. Many were sent to live with others. She married William H. Tippett.

1830/1840 Census records Randolph Co., NC. for the family of David Gibson who was living with the Slack family of Charles, Henry, John, Margaret. On # 78 of the 1840 census. He is listed as Gibson before and after, but when living on the Slack farm, he was listed as Gipson. Which you can only see looking at the Index, not the actual pages of the census, unless they are on the film.  What is on the internet for those census years shows David Gipson living with them, during 1830/1840. In 1850 he was living on his own place (it appears he married a cousin, Nancy Gibson, born 25 July 1816 in Randolph Co., NC. His son is direct to my line; Jesse (Jeptha) Gibson married Lucinda Slack. It also appears from the research of Edith Wilson Hutton that Nancy, may have had other children before she married David Gibson.

In May of 2009, I received two pictures from Edith Wilson Hutton of Knoxville, Tennessee. She was doing genealogy research for her daughter-in-law, Martha Fern Brock Hutton. Martha descends from Calvin I. Moon and Martha Jane Gibson all of Randolph County. The pictures were of Lucinda Auman/Wright Slack Gibson before 1912 but probably after 1901 when Jesse died. Also a group picture of four of the Gibson sisters. They are wearing black. We think for the funeral of Lucinda in 1912 in Randolph County. Anne Eliza is not in the picture. She died in 1904 in Arkansas. We
believe the woman on the right is Martha Jane Gibson Moon. We hope to identify the other three. If you know the identifies of the other three Gibson sisters or have questions or have other material on this line, please contact Linda Allred Cooper.