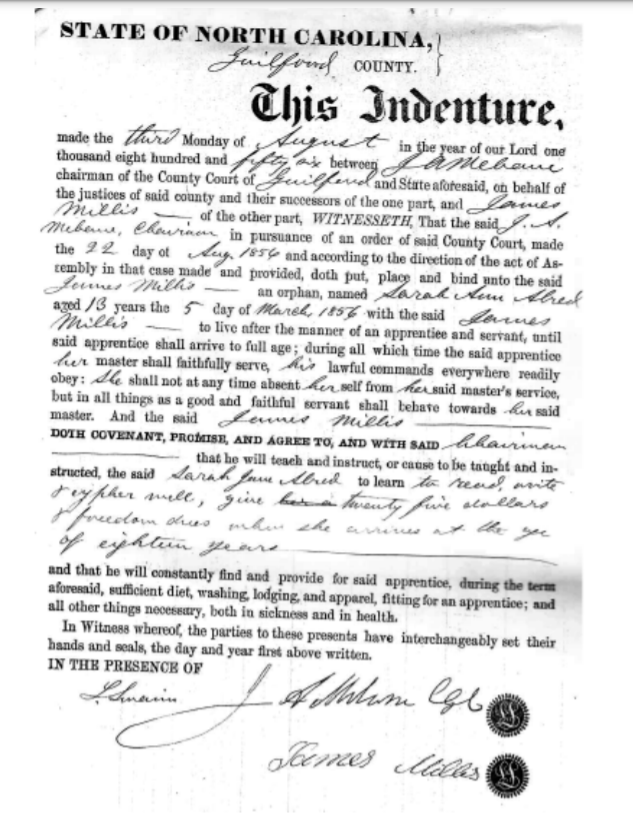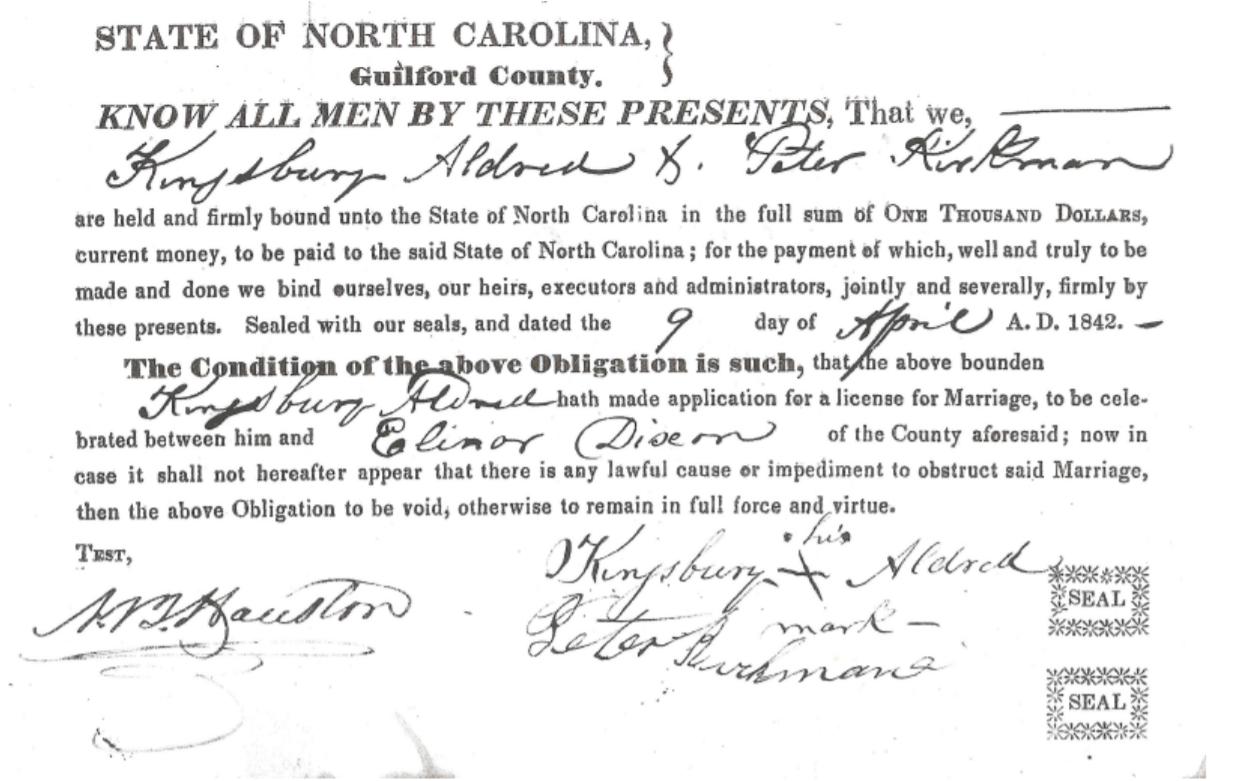 1856 Apprenticeship of Sarah Ann Allred
Possible Lineage (not documented):  Sarah, Kingsbury, Francis, Solomon, Solomon born 1680 Lancashire, England
by:  Linda Allred Cooper
Have you ever searched for something you just couldn't find, but found something else that was much more interesting? Some might call it 'being easily distracted' but I prefer to think of it as an unexpected treat. This is how the Apprentice Bond for Sarah Ann Allred was found. I don't think I ever did find the original document I was looking for and it has been long forgotten.
The Apprentice Bond was filed in Guilford County, North Carolina on August 22, 1856. It states:
"…bind unto the said James Millis an orphan, named Sarah Ann Alred age 13 years the 5 day of March 1856 with the said James Millis to live after the manner of an apprentice and servant, until said apprentice shall arrive to full age; during all which time the said apprentice her master shall faithfully serve, his lawful commands everywhere readily obey; She shall not at any time absent herself from her said master's service, but in all things as a good and faithful servant shall behave towards her said master. And the said James Millis doth covenant, promise and agree to and with said Chairman that he will teach and instruct or cause to be taught and instructed, the said Sarah Jane Alred to learn to read, write & cypher well, give twenty five dollars of freedom dues when she arrives at the age of eighteen years and that he will constantly find and provide for said apprentice during the term aforesaid, sufficient diet, washing, lodging, and apparel fitting for an apprentice; and all other things necessary, both in sickness and in health."
Thus we know Sarah Ann was an orphan and her birthday was March 5, 1843; but who was she and what happened to her parents?
The 1850 Federal Census for Guilford County, NC, Sarah (Sally) Ann was living with James Millis, his wife Catherine and their son Adrian:
Millis, James 26
Catherine 24
Adrian T. 2
Alred, Sally Ann 6
The census states she was a domestic servant. I imagine she spent her days cleaning the house and chasing an active little boy around.
Sarah was living with the Millis family per the 1860 and 1870 census for Guilford County.
1860
Millis, Jas 40
Catharine 35
Andrian 10
Aldred, Sarah 18
1870
Millis, James 50
Catharine 44
Adrian 22
Willie 7
Sarah Aldred 25
Per both listings she was a domestic servant.  Note the Apprentice Bond stated she was only bonded until she was 18 years old, at which time she would receive $25 and be allowed to leave (be free). As she was still living with the Millis family in 1870 when she was 25 years old leads me to think she was happy there. Also note a younger Millis son, Willie, was born in 1863.  That is quite a time span between the births of the two sons leading me to wonder if Catherine had trouble getting or staying pregnant or if her health was fragile. If so, it is easy to see how Sarah Ann would have been a necessary helper/servant; but that is pure speculation.
Sarah Ann was still living with the Millis family per the 1880 census:
Millis, James 56
Catherine 54
William E. 17
Allred, Sarah 37
However, this time she was listed as their niece. This was my first clue about her identity. Taking a closer look at James and Catherine
Millis, I found their Marriage Bond dated March 13, 1843, Guilford County, NC. Catherine's maiden name was Dixon. Catherine Dixon.  A search in the NC Archives uncovered the Estate Records of Elliott Dixon who died about 1858 in Guilford County. One of the documents in the Estate file was a Petition to the Court for permission to sell the Dixon property to raise money to pay debts. In part it read:
"The Petition of James N. Millis, Administrator of Elliott Dixon deceased – O. M. Dixon, W. R. Dixon, Hezekiah Dixon, Lewis Dixon, Betsy Gordon widow of Eli Gordon, James Millis & wife Catherine, Hannah Dixon, Luzenia Dixon, all of full age and Emily Dixon, Wesley Allred, Sally Allred and Jane Allred who are minors & sue by their next friend O. M. Dixon – all respectfully represent that they are the children & grandchildren of Elliott Dixon, deceased…"
Thus we have the names of Elliott Dixon's children and grandchildren including his daughter, Catherine Dixon Millis. Son-in-law James Millis was the estate administrator and, as shown in the census and the Apprentice Bond, taking care of Sarah Ann "Sally" Allred who we now know was his wife's niece. We also have two more Allred children, Wesley and Jane, to identify. Were they Sarah Ann's brother and sister?
The answer is yes. Looking back at the 1850 census, I found Elliott Dixon and his family living in Guilford County, NC:
Dickson, Elliott 45
Hannah20
Luzena 17
Hezekiah 15
Lewis 14
Allred, Elenor 26
John W. 4
Jane 2
Yes, the surname is spelled different, but say Dixon and Dickson out loud. They sound the same. Also, a close study of the census and other records proved Dixon and Dickson were used interchangeably and were the same family. Thus we now know the name of Sarah Ann's mother, Eleanor, and have documented Wesley (John W.) and Jane were her siblings.
I'm sure you have heard the old saying "the more answers I get, the more questions I have".  This is so true! Now the question becomes: who was Sarah Ann's father and why was her mother and siblings living with her grandfather, Elliott Dixon? A search of Marriage Bonds uncovered one filed in Guilford County, NC, on April 9, 1842 for Kingsbury Aldred and Elinor Dixon. By this we now know Sarah Ann's father was Kingsbury Allred.
Kingsbury is an unusual name so he should be easy to find, right? Wrong. There was a Kingsbury Allred on the 1850 census, but married to a different woman and had a different set of children:
Allred, J. Kingsbury 37
Cinderella 35
Margaret 9
Isaac C. 8
Miley 3
Helen 3
Susanna 1
I knew this family well having researched them several years ago. Kingsbury's (his first name was Jeremiah) lineage was Kingsbury, Thomas, Elias, Thomas, Solomon born 1680 England.  Many of you probably already know Elias Allred moved his family to Hall County, Georgia, in the very early 1800s.  However, his oldest son, Thomas, was a newlywed at the time and remained behind so he
could be near his bride's (Sarah York's) family. It was on the York family land that Kingsbury and family were living according to the 1850 census.  The land they lived on was located on the corner boundary where Guilford, Alamance, Chatham and Randolph Counties meet. Portions of the land was actually located in all four counties which took quite a while for me to sort out since deeds were filed in all four counties.  Thus we can eliminate Jeremiah Kingsbury Allred. He was married to Lucinda "Cinderella" Campbell and living with their children on inherited family land in 1850 Chatham County, NC.
No other men named Kingsbury Allred were found on the 1850 census for Guilford or surrounding counties. As Elinor was listed on the 1850 census living with her parents, I now assumed her husband was dead. This was confirmed by Guilford County, NC, Guardian
Records beginning February 1861 in which O. M. (Obed Milton) Dixon filed financial reports as the guardian of "the heirs of Kingsbury Allred, deceased".
Again, the answer to one question brings more questions. Why was O. M. Dixon the guardian of Sarah Ann, John W. and Rachel Jane Allred?  Where was their mother? A search of cemeteries uncovered the grave of Elenor Dixon Allred who died June 29, 1856 (Rehobeth UMC Cemetery, Greensboro, NC).  Keep in mind Eleanor was living with her parents and her two youngest children in 1850
and possibly still living there six years later when she died. The Apprentice Bond that started this whole research project was dated Aug 22, 1856, less than one month after Elenor died. We now know Sarah Ann was apprenticed to her Aunt and Uncle, Eleanor's sister Catherine and her husband, James Millis.
The 1861 Guardian record tells us Eleanor's brother, O.M. Dixon, was financially taking care of her children. The 1858 Estate Record tells us Eleanor's brother-in-law, James Millis, was administrator of her father's estate and her brother, O. M. was overseeing the legal and financial affairs of the children. This family was obviously close-knit and had stepped up to take care of the children after Eleanor and Kingsbury died.
We are left with one more question: when did Kingsbury Allred die? I was unable to find his grave or any death notice for him. No will or estate records were on file. However, I did find a Deed dated 1847 that placed him in Guilford County and trying to get out of debt.
"Sept 23, 1847:
Kingsberry Aldred (Guilford County) first part, Robert Little (same) second part, & Emsley Armfield (same) third part; Aldred owes Armfield 30 by 2 notes: one for $20 due Mar 21, 1847 and one for $10 due 22nd instant; to secure payment & for $1 sold in trust his interest in crop of corn on plantation of John Bray, 6 hogs, and cow & calf; if debts aren't paid by Dec 25 next, Little can sell the property after giving 10 days notice at 3 public places in said county and use proceeds to pay debts any overplus from sale goes to Aldred.  
(signed) K. L. Aldred; (witness) James N. Millis
(only one witness; wit. Oath Oct 29, 1847 by Jas N. Millis; Oct 9 1847 recorded book 31 p. 71."
Abstracts of Deeds, Guilford County, NC; Books 30 and 31 (1845-1850); pg105 (#16068); by Dr. A. B. Pruitt.
Thus we know Kingsbury died sometime between October 29, 1847, when this deed was sworn to in Court and October 13, 1850, when the census was taken showing Eleanor and children living with her father. This matches the fact that the youngest child, Rachel Jane, was born in 1848, conceived in 1847. Why Kingsbury died and where he is buried remains a mystery.
So we have the sad saga of Sarah Ann Allred.  Her parents, Kingsbury Allred and Eleanor Dixon, married in 1842 and 11 months later Sarah was born. Two more children, John Wesley and Rachel Jane, joined the family before their father died sometime between 1847 and 1850. Sarah went to live with her maternal Aunt and Uncle, James and Catherine Millis; while her mother, Eleanor and the two youngest children moved in with her father, Elliott Dixon. Eleanor died in 1856 and her brother, O. M. Dixon, and brother-in-law, James Millis, stepped in to legally and financially take care of the children.
I followed Sarah through time and she remained with the Millis family for the rest of her life except for a very brief marriage. In 1890 Sarah married William Shields Coffin (1827-1906) but, sadly, it must not have been a very happy marriage. Per the census, in 1900 William was living with his daughter, Dianna, while Sarah was, once again, living with the Millis family. William was buried near Sarah in the Rehobeth UMC Cemetery, Greensboro, NC. Sarah's tombstone documents her birth and death: March 5, 1843 – June 16, 1901.