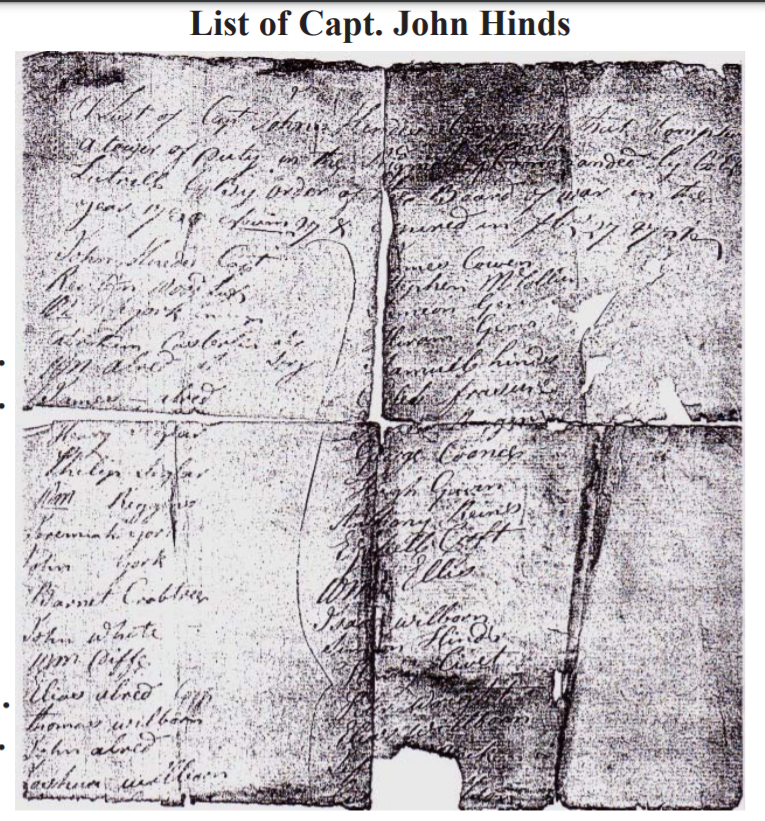 The Officers the Allred Men Served Under
Information is available about two of the officers of the North Carolina Horse Militia Unit that four Allred men and their neighbors served under. They are Col. John Luttrell and Capt. John Hinds.  Colonel John Luttrell of North Carolina "He was ultimately swept into the Revolution, was active against the Tories, and met death at their hands. He was shot through the body at Cane Creek, North Carolina, September 13, 1781, in an engagement with the notorious David Fanning, the Tory partisan leader and died the following day." (Draper)

Footnote regarding Col. John Luttrell, of The Transylvania Company, pg. 39, Boonesborough, George W. Ranck, 1901.  The battle was also known as Lindley's Mill, Cane Creek or Hillsboro, in Alamance County, North Carolina, September 13, 1781. 
Captain John Hinds

John Hinds was born about 1745 in Morris County, New Jersey. By 1775 he and his wife, Abigail, were living in that part of Guilford County that is now Randolph County where he was elected a Justice of the Peace in 1779 at the home of Abram Reese. Later Elias Allred, who served under Capt. Hinds, purchased the Reese home.  In 1779, he was also appointed adjutant of the southern part of Randolph County by Col. James Martin. In 1781/82, Hinds commanded a company of horseman in Col. Luttrell's regiment and he raised a company under Col. J.W. Collier to protect families from the deprivations of the Tories in the area. According to Caruthers' volume The Old North State in 1776, Col. John W. Collier lived about three miles southwest from Bell's Mill which was located near the mouth of Muddy Creek and the west end of Deep River. Following the Revolution, Hinds moved to Knox County, Tennessee, where he died some time between 14 Sep 1810 when he made his will, and January 1811 when it was proved.

It appears Capt. Hinds fought at the battle of Guilford Courthouse where his brother, Simeon, was killed while serving under him. The papers of Captain Hinds were in possession of his family members for several years. They are now part of the Kathleen Parkman Lamb Collection at the McClung Historical Collection, Knox County Public Library System, Tennessee.
The following are some of the lists of rosters kept by Captain Hinds.
List of the Co[mpany] which served under Capt. John Hinds in Randolph Co. in 1781 by order of Co[l].
Collier John Hinds, Captain, William Benge, W.W. York, Lieut. Richard Dafforn, Abraham Casterlin, Micheal Coffarn, Jesse Stroud, James Cowan, Phillip Seglar, David Browder, Elias Wilborn, James Morgan, Y.C. Croft, Henry Civet, "All of which have served their time and received discharge for such Service".
'All whose names are inserted here have served agreeable to the Militia [?] and have discharged and received discharges for such service."  William Billingsley, William McMaster, Robert Shenaker, Benjamine Robertson, Joshua Wright, George Hopper, John Diffe, Abraham Elliot, Joseph Hinds, Edward Hendrickson, Benjamine Williams, Caleb Wilborn, Robert ? Hendrix, Jacob Hendrix, Robert Duncan.

Allreds on the Roster

"List of Capt. John Hinds Co. that completed a Tour of duty in the Regiment of horsemen, commanded by Co. Luttrell by order of the Board of War in the year 1780, form 27, and expired in Feb. 27, 1781. John Hinds, Capt. Reuben Wood, Lieut. John Alred, Peter Wright, W.W. York, E, Joshua Wilborn, Elias Wilborn, Samuel Hinds, James Cowan, Stephen McClellan, Abraham Casterlin, Sr., Simeon Geren, Hiram Geren, Wm. Alred, Sergt., James Alred, Henry Seglar, William Riggins, Philip Seglar, Caleb Frasure, Jeremiah York, James Riggans, George Coanel, Barnett Crabtree, John York, Hugh Gavin, William Diffe ? Anthony Reins, John White, Thomas Welborn, Isaac Welborn, Henry Cicit,(Kivett?) Elias Alred, Ezekelle Croft, William Ellis, Simeon Hinds, ——————* ————-——* "*Two names not legible because of a hole in the original copy. 
The Allred Men
Lieut John Allred was the fourth son of Thomas Allred.
Wm. Allred, Sergt., was the second son of Thomas and Elizabeth Allred.

James Allred, was the first son of Thomas and Elizabeth Allred.

Elias Allred, was the third son of Thomas and Elizabeth Allred.

Thomas Allred, the father, of James, William, Elias, and John, served as a Regulator served with his brother William and nephew John 1761-1771.  This was a movement to regulate the tax collectors. These men usually came a few times a year instead of one time and this put a heavy burden on the citizens.  About ten years after the Regulator movement where their father and uncles were involved, the Allred brothers served together during their three month militia duty. Plus they were often called upon to fight against Tory activity in their area of central North Carolina during the American Revolution and also after the Patriot victory at Yorktown, Virginia, in October 19, 1781.