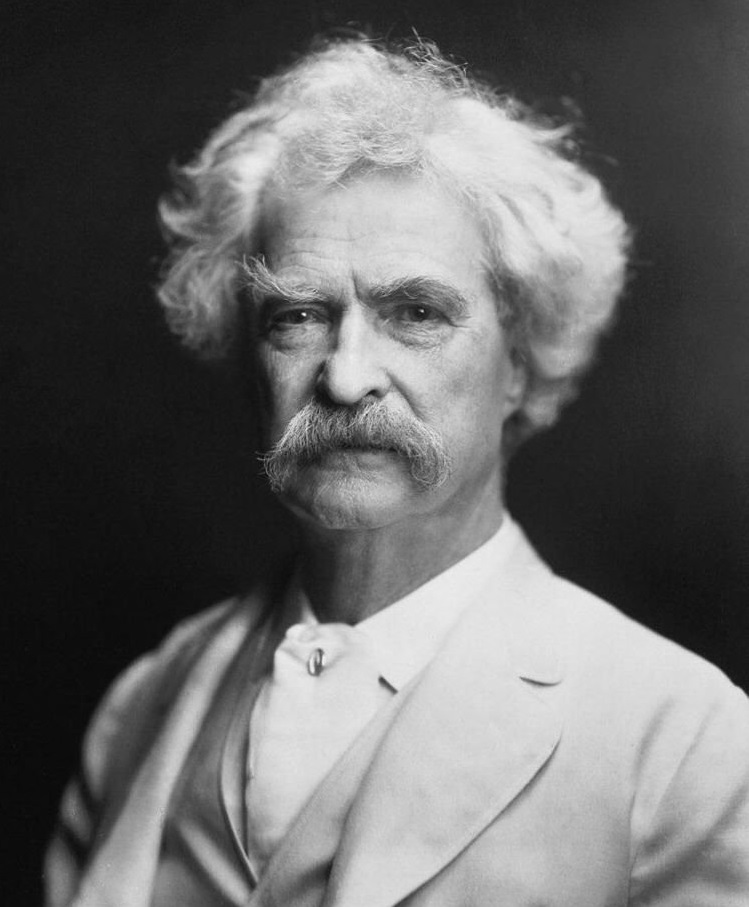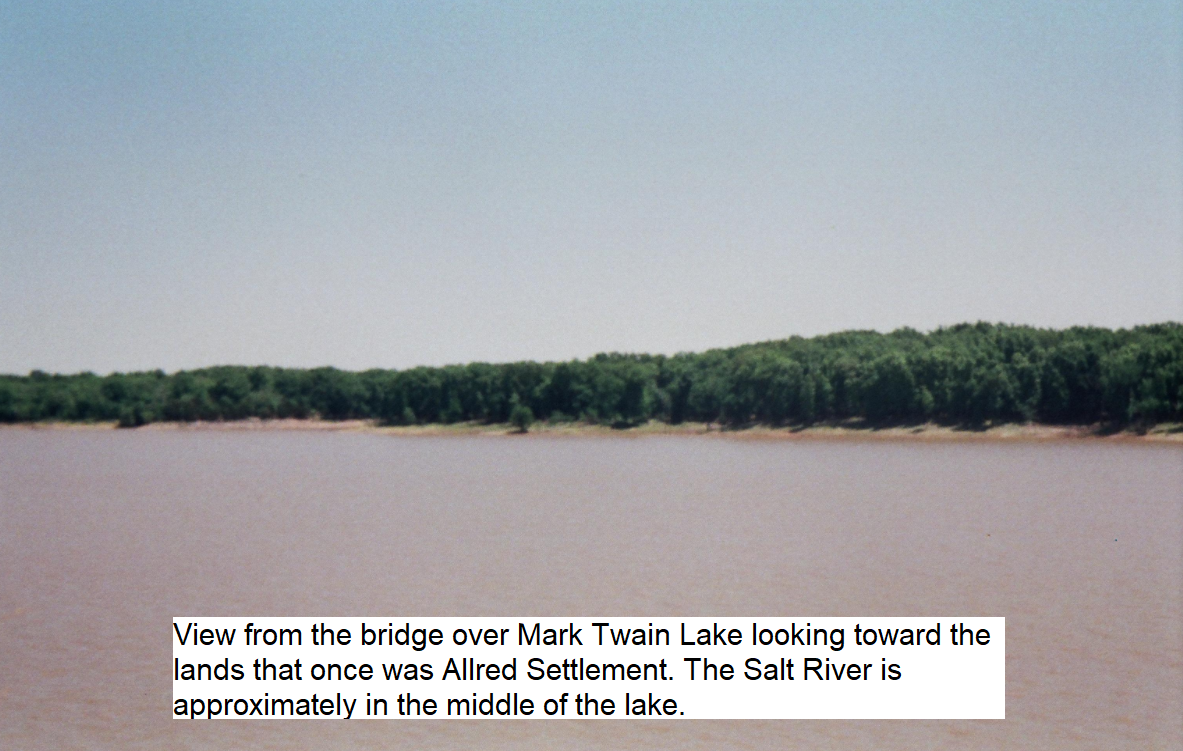 An Allred and Ivie Family Connection to the Family of Mark Twain
by Alice Allred Pottmyer
William and Elizabeth Thrasher Allred and their adult children and grandchildren moved from Franklin County,
Georgia about 1805 to Rutherford County, Tennessee. The area in Middle Tennessee where they settled soon
became Bedford County. William was a son of Thomas and Elizabeth Allred. Thomas is often referred to as the
"original" Thomas. His son, William, was born about 1750 in what became Randolph County, North Carolina. Eighteen family members originally moved to Rutherford County. In 1807 the large Rutherford County was
divided and the area where the Allreds were living became Bedford County. However, by 1829, the family has
grown to 89 and this included many young children. More land was needed to support the needs of the
growing families. Anderson Ivie and his wife, Sarah Allred, were the first to take their family and move
approximately 500 miles north and west to land along the Salt River in Ralls County, Missouri. A year later, in
1830, the Allred families located to this area. Ralls County was soon divided and the area where the Ivie and
Allred families were living became Monroe County, Missouri. Sarah Allred Ivie was the oldest of the eight
children of William and Elizabeth Thrasher Allred.

The families farmed and began to prosper on their new Missouri lands. The small town of Florida was on the
opposite side of the Salt River. In 1835, the town had two grist mills, a hemp mill for making rope and at least
one store. Also, at the time, some of the Allreds began moving to western Missouri. Most of the Ivie families
remained in Monroe County and for some time several of the Allred families remained there. Anderson and
Sarah Allred Ivie, did not move. Their daughter, Elizabeth Ivie Allred, was married to her first cousin, William
Hackley Allred. His parents were James and Elizabeth Warren Allred. In 1835, they were still in Monroe County
near her parents.

In July of 1835, John Marshall Clemens and Jane Lampton Clemens, moved to Florida, Missouri. On November
30, 1835, their sixth child, Samuel Langhorne Clemens, was born in Florida. Earlier in that year, the family had
accepted an offer of partnership from the husband of Jane Clemens sister, John Quarles, her brother-in-law,
ran a successful store in Florida. John Clemens opened his own dry goods store there in 1837. Like Quarles, he
was convinced that the small settlement would boom if the Salt River was made navigable to the Mississippi
River.

John Clemons became a Monroe County judge. He was appointed by the state legislature to a commission
promoting a local railroad as well as navigation to the Mississippi. The Salt River proved to only be navigable by
small boats. As a result, the transportation plans for a railroad and boat travel to the Mississippi were dropped.
It is not known how well the Ivie and Allred families knew the Clemens, Quarles, and Lampton families.
However, because Florida was the major town in the area, their paths would have crossed. The next paragraph
is an example of one of those connections.

William Datien and Sally Ivie, were married October 31, 1845, in Florida, Missouri, by John A. Quarles, Justice
of the Peace. Quarles was an uncle of Samuel Clemmons. Sally was the daughter of John Anderson Ivie and
Anna Robinson Ivie. Sally was born in 1828 in Bedford County, Tennessee. As a very young child, Sally moved
with her parents and other family members to Monroe County. Sally's grandparents were Anderson Ivie and
Sarah Allred Ivie.

The Florida Cemetery and the Florida Methodist Church Cemetery have the graves of members of the
Clemens, Quarles, Lampton and Ivie families. The maternal grandfather of Samuel Clemens, Benjamin Lampton,
died in Florida in 1837. His grave is in the Florida Methodist Church Cemetery in what remains of the town of
Florida. The Florida Cemetery is on the edge of the town. Margaret L. Clemens, older sister of Samuel Clemens,
was buried in the Florida Cemetery. She was born May 31, 1830, and died in Florida August 17, 1839. Margaret
L. Clemens is the only Clemens shown in the Florida Cemetery. This is probably because soon after her death,
the family moved to Hannibal, Missouri. Cemetery records show
John A. Quarles, January 1802-February 25, 1876;
Martha Ann Lampton Quarles. wife of John A. Quarles, March 22, 1807-July 23, 1850;
and Sara E. Quarles (wife of Benjamin L. Quarles) July 6, 1833-November 29, 1852.

Also, buried in the Florida Cemetery are

Anderson Ivie, March 1774-May 1852 and his wife, Sarah Allred Ivie, May 1781-April 1861. The grave of Anderson Ivie has a stone. There is no stone for Sarah Allred Ivie. She was buried next to him in an unmarked
grave in 1861. GPS: N 39.49494 W 91.79318.

In 1839, John Clemens resettled his family in Hannibal, Missouri, along the Mississippi. He set up a general
store and opened a law office. His aptitude was for law, which paid the least. His financial position declined. In
1841, he mortgaged his land. He hoped to revive his fortunes by being elected clerk of the surrogate court.
Though a favorite for the position, he campaigned tirelessly from house-to-house, and was voted in by a large
majority. After riding to the county seat to take the oath of office, he was returning home in late February
through a rain-storm at night, arriving home bitterly cold and drenched. He soon contracted pneumonia.
Sam Clemens, who was then 11 years old, remembered seeing his father on his deathbed, as he tenderly put
his arm around his sister Pamela's neck and drew her down to kiss her, saying "Let me die." A gesture of
affection from him that he had never witnessed before.

The untimely death of "Judge Clemens" left the family facing hard times. The following year, in 1848, Sam
began his first job, as a printer's apprentice for Joseph Ament, who published the Missouri Courier. In 1851, he
began working as a typesetter, contributing articles and humorous sketches to the Hannibal Journal, a
newspaper that his older brother Orrin owned.  He worked on the Mississippi as a young man and received his pilot's license. Piloting also gave him his pen name from "mark twain" the leadsman's cry for a measured river depth of two fathoms (12 feet). This depth
was safe for a steam boat. He traveled to the Nevada Territory and during this stagecoach across the Great Plains and the Rocky
Mountains, he visited Salt Lake City in Utah Territory.  He settled in the silver-mining town of Virginia City, Nevada. He worked for the newspaper Territorial Enterprise. On this paper, he first used his pen name on February 3, 1863, when he wrote a humorous travel account, "Letter from Carson – re: Joe Goodman: party at Gov. Johnson's music" and signed it "Mark Twain."
Sam became a well-known write writer humorist and lecturer. He traveled and lived extensively in the U.S.,
Europe, Canada, Australia and other countries.
He married Olivia Langdon in 1870. Their son, Langdon died from diphtheria at the age of 19 months. They
had three daughters: Susy (1872-1896), Clara 1874-1962) and Jean (1880_1909). Olivia Langdon Clemens died
in 1904. Samuel Clemens (Mark Twain) died April 21, 1910 in Redding, Connecticut.

The state of Missouri honored him in 1984 by naming the area in both Monroe and Ralls Counties as Mark
Twain Lake. The Lake was formed from the Salt River when the Clarence Cannon Dam was built. The dam
created the lake. Today this is a major recreation area for boating, fishing and camping. The village of Florida, is
mostly surrounded by the lake. Also, near the lake is Mark Twain Birthplace Museum. It is part of the Missouri
State Park. The frame home where Samuel Clemens was born was moved to the museum. There are exhibits, a
research room and a film about the life of Mark Twain are included in the tour of the building. Even though the
dam flooded some of the land around Florida, not all the Allred and Ivie lands are under water.
Alice Allred Pottmyer is an Allred an Ivie three ways:
Alice, Berten Wendell, Birten, Wilson Monroe, William Hackley, James, William, Thomas.
Alice, Berten Wendell, Birten, Wilson Monroe, Elizabeth Ivie, Sarah Allred Ivie, William, Thomas.
Alice, Berten Wendell, Birten, Elizabeth Ann Ivie, Richard Anderson Ivie, James Russell Ivie, Sarah Allred Ivie, William,
Thomas.