Adolph Martin Holaday Jr.
Allred Lineage:  Adolph Martin Jr, Mary Ann, Anderson, Thomas, Solomon, Solomon, Solomon, Solomon born 1680 England
There is ongoing debate and research about how many generations of Solomon there really were.   A lack of original documentation adds to the problem.  For now, my belief is there was the man born 1680 England, his son who received a land grant in NC in 1752, his son who died 1782 Richmond County, NC and his son who married Mary Alldredge and lived in Tennessee.  If you can add to this debate or have documentation to prove or disprove this lineage, please contact me.  Linda Allred Cooper
Born 1914
Died 1991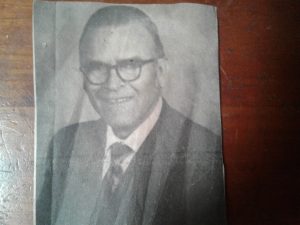 Submitted by his daughter Joy Holaday Ryan
In 1990, a year before my father AM Holaday Jr. (1914-1991) passed from cancer, I asked what he knew of his father's family. What he knew was so little, it would fit on the proverbial postage stamp.
He knew that someone was an Allred...he thought his grandmother. She was struck and killed by lightning.  The storm came up, and she ran out to put up her chickens. As she lifted the metal clothesline to walk under it, lightning hit the endpost, traveled along the wire, and killed her. Unfortunately,  she knew all the family stories, ancestry and such. It was all oral, and lost with her. With a little bit of work, and just before her own untimely death in a deer-motorcycle collision, my sister Merry Holaday Davis uncovered a little more info on this other Mary Holaday who died suddenly by lightning.  Mary Ann Allred Holaday was born in 1862 in Polk, Iowa to Anderson Allred and Barbary Ballard. She died 13 June 1919 in Wathena, Kansas, struck by lightning.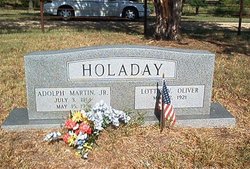 My father also said he had a grandfather who had a bad leg and walked with a limp. He had a Government pension, and always wore a suit. When he visited, he did no work. He just sat there by the fire and talked. I believe this was Anderson Allred, b. Oct 1839 to Thomas Allred and Rosannah Montgomery, in Shelby Indiana.... and died June 1903 in Wathena KS. He enlisted as a private in the Iowa Cavalry. He was captured at the Battle of Newnan in 1864 in Georgia and got the hard luck of being imprisoned at notorious Andersonville. When he attempted to escape, a leg iron was put on a leg. This caused a serious infection. When he was traded out of Andersonville, he was malnourished, with scurvy and gangrene. He kept the leg somehow, was mustered out in 1865, and had a pension for his service.