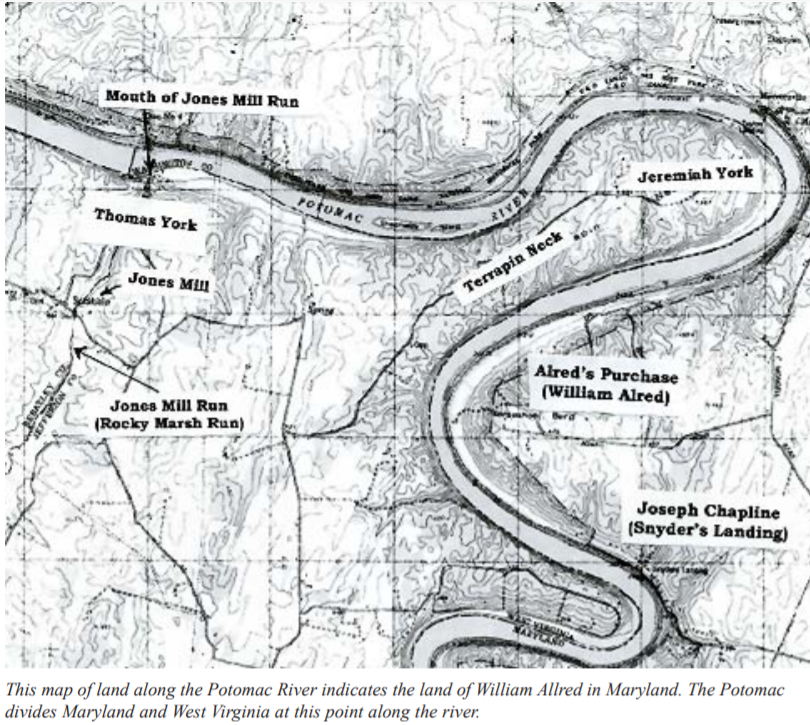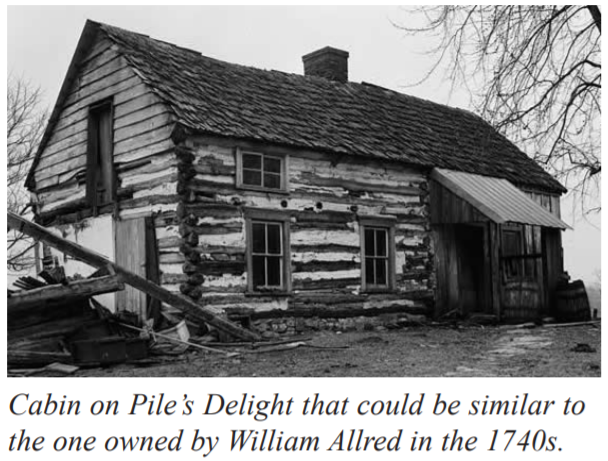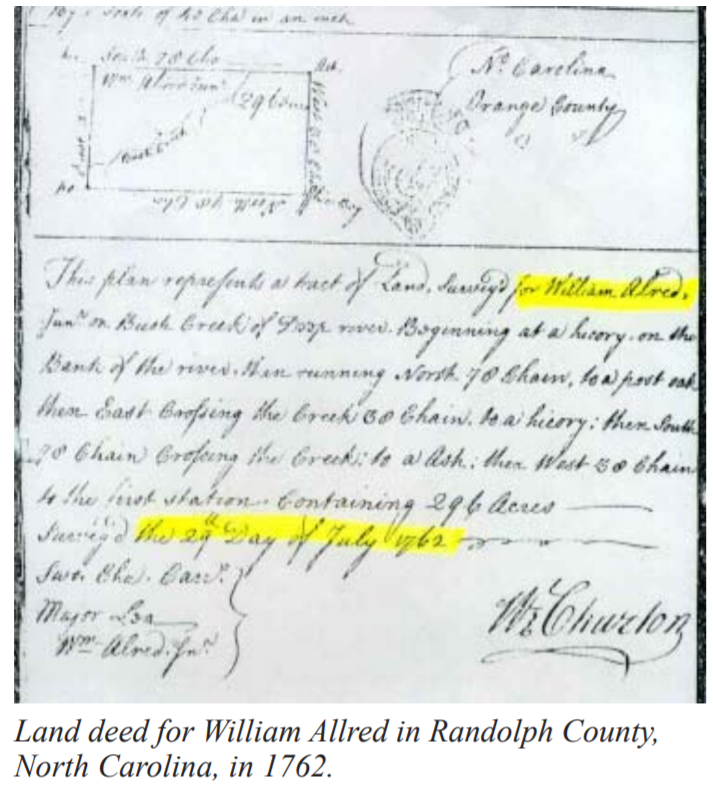 William Allred of Maryland
by Linda Allred Cooper
Lineage:  William, Solomon born 1680 Lancashire, England
By now I feel certain you have heard the stories and seen the documentation proving the Allred family was living in central North Carolina by the mid-1700s. You have also heard the stories and seen some of the documentation proving the Allred family was living in Lancashire, England and at least one, Solomon Allred, was living in Chester County, Pennsylvania, in the 1720s. But where was the family living between the 1720s and 1750s?
In March of 1732 the proprietor of the Provence of Maryland desired to attract settlers to the Northern and the Western areas of his territory, so he made a proclamation declaring special land prices and taxes for settlers.
1. Any person having a family to come to the land within three years of the proclamation and actually settle on the land could have two hundred acres without payment for 3 years. After 3 years the settler had to pay to the proprietor four shillings sterling for every hundred acres.
2. Any single person, male or female between the ages of 14 and 31 could have 100 acres under the same conditions.
3. They were to be charged taxes and the security of their land would be insured as if they were British subjects, which was quite a boon.
The Sprigg and Pile families of Maryland were wealthy, well educated, politically active, upstanding members of the community and they obviously took advantage of the free land offer.  Dr. Richard Sprigg obtained a tract of land on April 11, 1734, which he named Pile's Delight in honor of his mother, Elizabeth Pile Sprigg and his maternal grandfather, Dr. Richard Pile.  This land was located along the northern side of the Potomac River "about six miles above the mouth of Antietam" Creek. A few years later, Dr. Sprigg purchased an adjoining property known as Bedlam Green. These two parcels became a large tract of land that remained relatively pristine and undeveloped until the mid 1740s.
No doubt paying taxes on this undeveloped land played a part in Sprigg's decision to sell the property. On December 3, 1746, Sprigg sold these two tracts of land, Pile's Delight and Bedlam Green, dividing it among three men.  Joseph Robinette (also in records as Joseph Robinson) purchased a total of 150 acres (21 acres from Bedlam Green and 129 acres from Pile's Delight) which he named Robinette's Purchase. Thomas Kelley purchased a total of 125 acres (all from a portion of Pile's Delight) which he named Kelley's Purchase.  The third man, William Allred of Prince George's County, Maryland, also filed a deed for land he had purchased for 50 £ (British Pounds Sterling) from Richard Sprigg. This tract of land, a total of 125 acres, was carved from Pile's Delight (117 acres) and Bedlam Green (8 acres).  Allred named his new land Allred's Purchase.  [Prince George's County, Maryland, Land Records 1746-1749; page 24; published by TLC Genealogy, FHC SLC.]
William Allred's house no longer exists (that we know of). However, on the left you will see a photo of a log house which dates back to the 1700s is in existence and sits on land very close to where Allred lived. This house is of the same style and architecture of houses built in the same area and time period as William Allred's land. His house may have looked just like this. 
Another example of a 18th Century house is the Mary Hill House.  The Mary Hill House was built in the 1780s, named after its original owner, and is open to the public for tours. For more information, visit http://www.maryhillhouse.com
The new neighbors, Thomas Kelley, Joseph Robinette/Robinson and William Allred apparently did not "get along." A few years after they became neighbors, they were in Court suing each other over various complaints:
Oct 24, 1750 Robert Evins recorded supersedeas* 24 Oct 1750 against WILLIAM ALRED, Thomas Keley and Joseph Tomlinson, judgment of 4 pounds 6 shillings 9 pence recovered against WILLIAM ALRED 16 Jun 1750 before Joseph Chapline to be paid by 10 Feb next. Frederick County, MD records (Liber B:268-268), pg. 30
Nov 21, 1750 William Webb recorded supersedeas 21 Nov 1750 against Thos Kelly, Joseph Robinett, for sum of 4 pounds, 18 shillings and 141 pounds of tobacco costs recovered against Thos. Keley on 21 Aug last in County Court to be paid by 10 Feb next. Taken before Joseph Chapline, John Clagett. Frederick County, MD records (Liber B 1748-1752), pg. 32; abstracted by Patricia Abelard Andersen. FHC/SLC

Mar 1751 Joseph Robinson, farmer of Frederick Co. and Sarah Robinson his wife, to appear in March Court 1751 to answer to the complaint of William Aldred. Inhabitants of Frederick County, MD, Volume 1 1750-1790; pg. 7; by Stefanie R. Shaffer. (Frederick County Court Records 1750; Maryland Archives C 773-1 1/41/6/39 and C 773-2 1/41/640)
Land in Frederick County, Maryland, was quickly claimed as more and more immigrants from Europe came to America. New land became available as the British Crown expanded its holdings and white settlers pushed the Indians off their land.  In 1737, Henry McCulloh received a royal patent for 1.2 million acres in central and western North Carolina. He quickly began making land grants available so he could collect rent. In 1748 the second Earl of Granville began making land grants available for the land he owned in central and western North Carolina. Word of the new land was advertised in Maryland and Pennsylvania creating a flood of settlers moving south to claim their piece of the American Pie.  During this same time period, the Indians were being pushed off their land in Maryland and Pennsylvania and became increasingly hostile.
In the late 1740s, although there were few, if any, white settlers west of the Allegheny Mountains, the British Colony of Virginia laid claim to all of the lands as far west as the "islands of California." White traders began travelling to the Ohio River Valley to trade and tensions grew between the Indians and Whites. Tensions also grew as Indian Tribes such as the Shawnee and Lenape who originally lived in what is now eastern Pennsylvania. By the 1720s they were forced into the Ohio River Valley by the white settlers' migration and had come under the control and government of the Iroquois Nation which they resented. The French, who also claimed ownership of land west of the Alleghenies, became upset by the invading white traders, beginning trickle of white settlers and growing Indian tensions. All of this exploded in 1755 creating the French and Indian War.
All of these increasing tensions combined with the newly available land in North Carolina accounts for many of the people who decided to leave Pennsylvania and Maryland and move south. I imagine these reasons, perhaps combined with William Allred's court battles with his neighbors Thomas Kelley and Joseph Robinette/Robinson, most likely played a large part in Allred's decision to sell his land in Frederick County in 1752.
Oct 2, 1752 Charles Higginbotham recorded 2 Oct 1752, made 14 Sep 1752, between WILLIAM ALRED of Frederick County gentleman, for 70 pcm tract called "Alred's Purchase" for 8 acres, also part of a tract called "Bedlam Green," and another tract part of "Pile's Delight," at the end of the last course mentioned, M&B given for 117 acres; to have the 2 tracts of land. Signed WILLIAM ALRED by his mark W in presence of Thomas Cresap, Thomas Prather, WILLIAM ALRED acknowledged deed.  Frederick County, MD, Deed Book B, pg. 627-628.  Frederick County, MD, Land Records, Liber B Abstracts 1748-1752, by Patricia Abelard Anderson; pg. 70
William's purported father, Solomon Allred*, had already received a land grant in 1752 in North Carolina. Thus William had added incentive to move south. Rules for claiming land were much different in that time period.  Many families moved onto the land, built homes and farmed, then went to court to finalize everything when they had a chance. William may have done just that, lived on the land before going to court to file the official paper work, or he may have lived with family for a while. Whatever the reason for the delay, 10 years after selling his land in Maryland, William Allred obtained a grant for 296 acres on July 29, 1762. This land is now known as "The Original William Allred Land" located on today's map at Cedar Falls, Randolph County, North Carolina.
*There is some debate over the identity of the man, Solomon Allred, who received the 1752 land grant.  Was he the Solomon Allred born 1680 Lancashire, England?  Or was it his son, also named Solomon?  Hopefully future research will shed more light on who this man was.