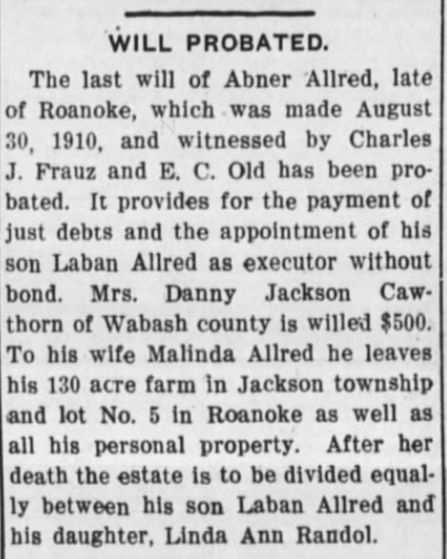 Daily News-Democrat
Huntington, Indiana
16 Feb 1911, Page 8
1896 Letter from Abner Allred
Contributed by Debbie Montei Dowling
Abner was a Double Allred:
#1:  Abner, William, Patience, Catherine, John, unknown daughter, Solomon born 1680 Lancashire, England
#2:  Abner, William, William, William, William, Solomon born 1680 Lancashire, England
This a letter written from Abner Allred to his aunt & uncle in 1896.  The aunt & uncle may have been Laban & Sarah Allred.  All the rest of his Allred aunts & uncles were dead by this time.  I do not have death dates on all his Coltrain aunts and uncles but the youngest was about 83 if still living.  Words in brackets I am unsure of or don't know.  I have kept most of the spelling but added some punctuation to make for easier reading.  Debbie Montei Dowling  
September 6, 1896
Roanoke Ind.
Dear Uncle and Aunt and Cousins all. It is with pleasure that I take my pen in hand to wrigh you a few lines in [brief] to you all that we are well and hearty and glad we in with the living.  Well my folks, we have had a very wet Summer and we raised a good crope of all kind of Grain here.  The [?][?] a heape of oats and wheat roted in the Shock and never was thrashed but we saved plenty I recken to do up.  Wheat is selling Cheap. Wheat 40 to 55 ct [?] 15 Alpefa 10 to 25 ct Irish Potatoe 20 to [?] hog 3 to 3.12 [$25] On foot. Land is going Down in [Hearsey mar] Down. You can buy a good [Hog] hear now for 25 and 30 dollar A Meilk Cowe and a good horse is worth about the same.  Many Business of all kinds is Poar.  Everything is on a stand Still Mills and Factory of all kinds is  Stopt Running and thousand of hands idle.  The Glass Factory is all so shot down
Men running [round] the country hunting work.  Now if the Popocrats and The Silverists elect Bryon in November* I am going to leave Indiana and go south and  [cornupe] with the Country and then be hapy and Contented with my fate.
Now my good people I want you all to come and se me.  You can come for half fair of the Railroad, Come and I will trye and feed you well and  I will hitch upe my Horses and I will tak you to se all of folks and I will show you a good time and it will not cost you one cent while you are hear in the State  I will tak a month time with you.  Showing you your kind folk and I will show you some Good looking Cousins and second Cousins
Yours Trully Abner Allred
Roanoke 
Huntington Co Ind
*Rool.  This referrs to  Roul, Carroll Arkansas according to Abners descendant, John Allred
*Laban. Abner had a son named Laban, who would have been about 35 years old in 1896.  All the penmanship looks the same.  Perhaps Laban wrote the letter for his father and added a note or this is more than one letter.
*Bryon refers to William Jennings Bryon, who ran on the Democratic ticket in 1896 against William McKinley.  He advocated free silver to increase the money supply and took up many other causes of the Populist Party. I think this is where Abner is getting the terms, "Popocrats" and "Silverist".  The poor economic conditions Abner refers do are probably due to the Panic of 1893.