Nancy Ann Allred Stowe
Allred Lineage:  Nancy, Eli T., unknown
born Feb 2, 1862 Floyd County, Georgia
died Oct 24, 1932 Waka, Ochiltree, Texas
Info provided by Charolett J. Hambrook Scrivner
Family stories say Nancy was born in Walker County, Georgia but she first appears on the 1870 Federal Census for Floyd County, Georgia.  She was 14 years old, living with her parents Eli T and Nancy Leuellen Allred and siblings:  Milly, Ella, Sarah, Louisa, John and Christina.  Nancy's father, Eli T. was a farmer with a large estate; land with a tax value of $1000 and personal property with a tax value of $250 per the 1870 Census.  This is a lot considering Georgia was devastated by Union Troops marching through the county twice in 1864; first while marching from Chattanooga toward Atlanta under General William T. Sherman and after the fall of Atlanta, John B. Hood's army pushed back through the county toward Tennessee.  How Eli accumulated his wealth is not known at this time.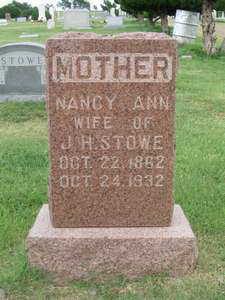 By the time the 1880 Federal Census was taken, the family had moved to Chattooga County, Georgia.  A study of the Georgia map shows they didn't move far; the two counties border each other in the north eastern corner of the state.  Nancy married James Henry Stowe in Chattooga County, Georgia on June 3, 1883.   Their first 3 children were born in Georgia but by 1895 the family had moved to Cherokee County, Alabama where two more were born, rounding out the family to five:  Florence, Marcus, Beauford, Annie Lou and Della.
James and Nancy moved to Wise, Texas by the time the 1910 Census was taken.  By 1910 they were living in Beckham County, Oklahoma and moved back to Waca, Texas by 1930.
Nancy's health declined and she died at age 70 from complications due to pneumonia.  Her husband, James, lived another 7 years.  They are buried together at Ochiltree Cemetery, Perryton, Texas.