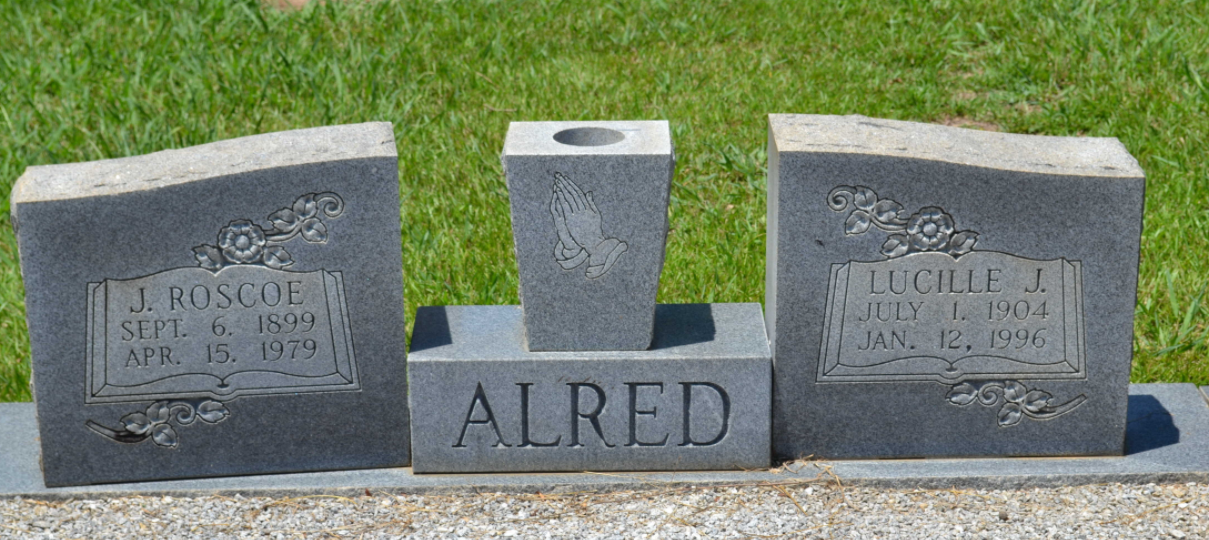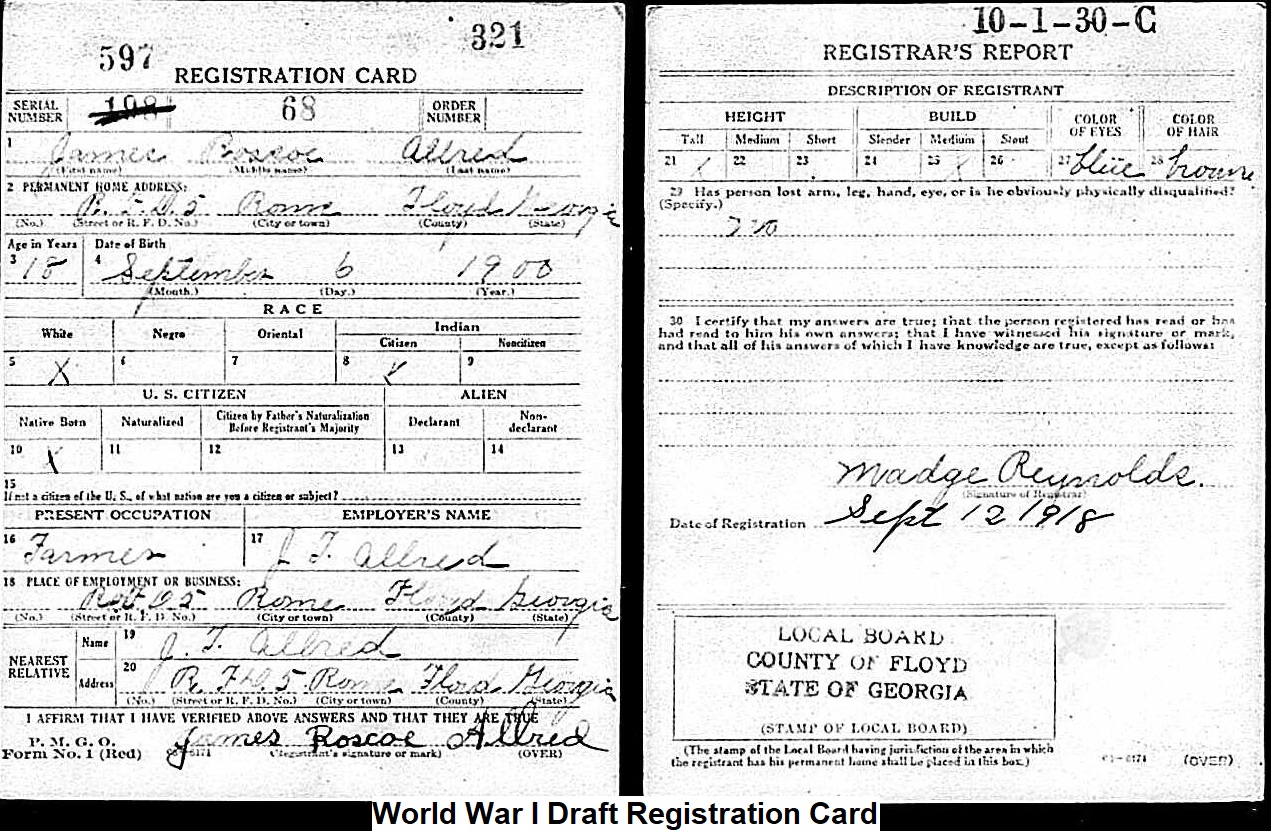 Obituary published in the Atlanta Constitution
16 April 1979, pg 37


James Roscoe Alred
As told to his children: Charles Douglas, Donald Johnson, Doris Beverly
Lineage: James Roscoe, John Thomas, Lewis Patterson, John James, John, Elias, Thomas, Solomon born 1680 Lancashire, England
James Roscoe Allred, known as "Roscoe," was born September 6, 1899. He lived on his parents' farm in Booger Hollow, Floyd County, Georgia, with his six brothers and four sisters, Lewis, Lester, Dallas, Dan, Cecil, Claude, Rovine, Estell, Dora, and Ruth.  One special memory shared was that their mother would make 100 biscuits every morning and set them at the end of the long family table.  The boys would throw them instead of passing them to each other when she wasn't looking. 
After years of hard work on the farm, at 19 years old, he went to the woods to pray. It was there he felt the strong calling to the ministry to preach the Word of God to people. He also knew he had to make a living and needed some education. His next thought was to get to the place where he could get a job and find a school.  He left the family farm for Atlanta.  He was told to contact the Estes family. Jade Estes was a distant relative and the Justice of the Peace in Clarkston, Georgia. He rented a room from Jade's daughters-in-law, the Hester's in Atlanta. He found work at City Hall and was employed by Atlanta Water Works.
It was there he was introduced to the Johnson family of three girls; Lillian, Lucille and Edna.  He fell in love with Mary Lucille Johnson and married her October 1, 1924. She was the love of his life.  As the children came along: Charles Douglas, Doris Beverly and Donald Johnson, he became a wonderful Daddy. 
He had a house built in East Atlanta on Cameron Street #735.  They started their family only two blocks from Grant Park. The years were such good years, even during the Great Depression; he did not lose his job.  During these years, he and Lucille took in people who needed food and other provided things such as giving people rides to the doctor. 
While living in Atlanta, he obtained a place on the Flint River so he could have retreats for young men to spend time on the river fishing. Roscoe taught them what the Bible said and how to live for God. This was a blessing for many young men.  While living in Atlanta, he attended night classes at the Atlanta Bible College where he studied Seminary. He, Lucille, and the children attended a large church, Park Avenue Baptist, where he was made a Deacon under Dr. L.E. Smith, who mentored Roscoe for years preparing
him for the ministry.

About 1939, he bought at 46-acre farm for $3,500, the old Goza home place in Chamblee, Georgia, on Henderson Mill Road. What a
blessing this place was. He grew all kinds of food to can and to share with others. People from the city came to hunt and eat, ride the horses, and feed the cows, pigs, chickens and goats. He would put hay in the wagon with quilts over the hay so the children would be comfortable while the mule would take all of us for rides. 
While on the farm, his mother, Olie Ander Estes Allred, widow of John Thomas Allred, would come to visit and make her famous hot rolls for us. She also made sauerkraut from cabbage grown in their fields.
In the early 1940s, Roscoe retired from the Atlanta Water Works after 20 years.  After preparing for the ministry all through the years, he was called to his first church to pastor. It was a wonderful small church called Mountain View Baptist on Redan Road in Stone Mountain.  They sold the farm and moved to Ellis Road to be closer to the church. He was ordained and the church grew during the years he was there. He loved the people in the church and they loved him. Lucille served along side him and they were blessed in so many ways. He resided there from 1944 to 1953.

As a grandfather, he was quite fun loving and a big cut up. He absolutely loved to buck dance even though it wasn't seen as proper. He loved everyone, was very kind and treated everyone equally. He used to take the grandkids down to the woods and teach them Bible stories, like David and Goliath. He would show them how to make a sling shot, like David's out of poplar wood. He also soaked the wood in water and braided it to make whips and flips and would also carve the wood into whistles. He made all of these for the kids to play with. The grandkids remember him snapping the whips to make it pop on their legs, which would make him laugh and make them holler. The most fun thing he made for them though was the zip line in his backyard in Stone Mountain. All the kids for miles around came to play on it.
He was also well known for his famous tomatoes. An Atlanta newspaper even wrote an article about the tomatoes. The plants grew to be 12 feet tall and produced whopping one pound ripe tomatoes. 
Roscoe was then called to a church in Rome, Georgia, named Dykes Creek Baptist. It was special to be near so many family members at this time of life since his mother was in her later years. She was able to visit the church and hear him preach. She had some special things to tell us about him. She told the adult children in a car ride home from church one day that as a child he was so honest and she could always depend on him to do what he said he would do. He was always a man of integrity and a man of his word, even as a child. The church grew and they were surrounded by very loving people.

Roscoe was studying in his chair across the highway during a bad storm when he saw lightening strike the church. He and Lucille went as fast as they could to save everything they could, pulling out the piano and then people came to help. Unfortunately, they could not save the church and it burned.  As soon as possible, another church was built.  It grew and after a few years he was called to a church in Florida called Baldwin Baptist Church.  There were wonderful people there. He only stayed for one year. He felt his health failing and needed to go back to Stone Mountain. They built a house on Hairston Road on his son-in-law's property. In a few years, his health grew steadily worse and mother could not care for him as needed. He went into the Tucker Nursing Home.

He was a loving father, granddad and great granddad before he passed away at 79 with his family members by his side on Easter Sunday morning in 1979.

*Note: the family name, Allred, was changed by James Roscoe to only one "L" for reasons unknown.