Elias Allred, Senior, Son of Thomas,
Lived Longer Than Most People Believe
By:  John Allred, Dublin, Ohio
John's Allred Lineage:  John, Cleveland R., William R., Coleman S., Samuel, Elias, Thomas Allred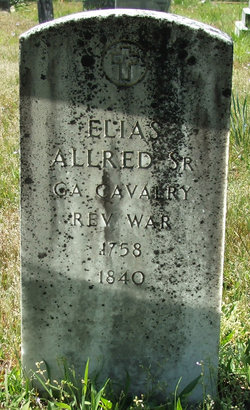 Elias Allred is my Great, Great, Great Grandfather, and being a student of history, I am very interested in his role in America's fight for independence. He was just a few weeks short of his 17th birthday when the first shots of the Revolutionary War rang out at the Battle of Concord, Massachusetts on April 19, 1775. It took a while for the War to reach North Carolina but he was eventually drafted on December 1, 1780. He was 22 years old when he served his first of two terms in that war. The Revolutionary War was no doubt a defining event in his life but he had a full, long life after that. In fact, he lived longer than most Family Tree sites give him credit.
There is no controversy on the date of birth of Elias Allred – May 6, 1758[1]. What is often confused is his date of death. The most common statement of the year of his death is 1840, no doubt based on the year stated on his tombstone. And a tombstone statement is usually taken as factual. But in this case, it isn't!
If Elias Allred died in 1840 as his tombstone states, his family would have committed a giant fraud because his Revolutionary War pension payments continued until 1844, but of course they did no such thing! We now know that Elias applied for a pension from the State of Georgia, based on his Revolutionary War service, in Hall County, Georgia on July 10, 1833. He was granted $22.50 per year for the rest of his life, paid in two equal payments of $11.25 each in March and September[2]. His last payment was picked up by his representative, Israel K. Tefft[3], on September 4, 1844 in Savanah, Georgia, which means Elias actually died somewhere around early September, 1844 and not in 1840 as recorded on his tombstone. How could this discrepancy have occurred?
The answer to that mystery was revealed in a visit to Elias Allred's burial site by a group representing the East Coast Allreds, led by Linda Allred Cooper in November, 2000. That visit was commemorated by a photo, taken by Linda Allred Cooper: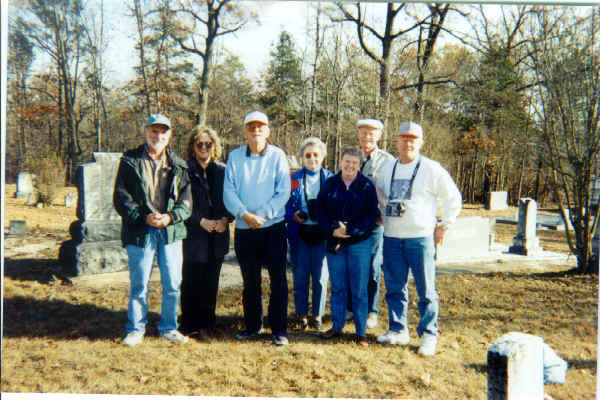 From left:  David Allred and Jackie Allred Cooley of Gainsville, GA; Adrian Allred, Dot Allred Allen, Sue Estep and Lawrence Allen of North Carolina and Larry Allred of Utah.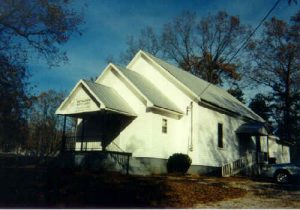 Elias is buried at Bethlehem Baptist Cemetery, Lula, Hall County, Georgia. For more than a century, Elias' grave was unmarked, although cemetery records showed the exact place of his burial. The tour guides for the East Coast Allreds' visit was Jackie Cooley and David Allred of Gainsville, Georgia who revealed that their aunt, Martha Lucille Allred Pyatte , had a tombstone erected in the 1950s to mark the specific location of Elias' grave. Martha Pyatte was a descendant of Elias Allred (see box).
Thomas Allred (1725? – May 10, 1810) m. Sarah Elizabeth York Allred (1735 – 1835?)

Elias Allred, Senior, (May 6, 1758 – 1844) m. Mary Rigby Allred (1760 – 1835)

Elias Allred, Junior, (1789 – 1870) m. Mary Ann Harrison Allred (1789-1882)

John Marion Allred (Nov 21, 1831 – Mar 24, 1915) m. (1) Martha Davis (1829 – 1910) on Oct 8, 1854, Pickens County, GA and (2) Sallie M Davis, May 1, 1911, Pickens Co. GA.

Elias Jackson Allred (Jan 19, 1857 – Nov 3, 1906) m. Laura Jane Taylor Allred (1857 – 1913) on Sep 2, 1876, Pickens Co., GA

William Cicero Allred (Jul 13, 1882 – Jun 29, 1957) m. Rosa Belle Pettett Aug 7, 1886 – Apr 2, 1978 m. 1908, Pickens Co., GA

Martha Lucile Allred Pyatte  (Mar 6, 1911, Jasper County, GA – Dec 25, 1991, Avery County, NC) m. Claude Decator Pyatte (1906 – 1983)
We don't know what basis Martha Allred Pyatte used to choose a death year of 1840. No such record, other than the tombstone has been found. There is no doubt that she meant well in her attempt to mark Elias Allred's grave and commemorate his service in the Revolutionary War. However, she clearly had insufficient information to construct an accurate memorial. In addition to the wrong year of Elias' death, the tombstone has another error: the statement "GA CAVALRY REV WAR" is also incorrect. Elias Allred was in the Cavalry but there is clear evidence, in his own words, that he served only in North Carolina and South Carolina, not in Georgia. His pension application1 states:
That he was drafted into the Service of the United States about the first of December in the year Seventeen hundred and eighty for a three months tour of duty under Capt John Hines who commanded a Company of HOrse (deponent furnishing his own horses) and was attached to Col. John Littrells Regiment Major Ghotston (sp?) also belonged to the said regiment and also marched to where Gen'l Green's army was stationed near the Cheraw Hills in the State of South Carolina from thence we marched up Peedee River to Salisbury in North Carolina leaving Gen'l Green with his army to follow.  We made a rapid march to meet with and assist Col. Morgan who was retreating from Wallis (after having defeated Tarlton at the Cowpens) when we reached Salisbury we found Col. Morgan with his army marching through town.  Who placed the company of Cavelry to I belonged together with about eighty of his riflemen to Guard until the main army could be ferried across the Yadkin River.  But just about the time the last baggage waggon got onbord the Flat a party of Wallis men Said to be about one thousand came upon us.  We fired two rounds and retreated and on the next joined Col. Littrel marched to the Barracks and in tow or three days was discharged tho time for which I was drafted having expired.
Then a few days after getting my discharge I substituted in place of a man by the name of John Sitten for a three months tour of duty in the Cavelry again and under the same officers and was marched to & fro through the State of North Carolina keeping down the tories and was in one pretty smart skirmish with the like which were commanded by a Col. Fanning a noted tory.  I think this tour of duty was commanded about the first April 1781.  Having Served out this tour of duty.  I with several others of the same company agreed to stand as what was termed minute men subject to the call of the same Captain and was frequently called on and was out sometimes two or three days at a time.  I have no documentary evidence and know of no person by whom I can prove any service except John Duncan whose affidavit is annexed.  I hereby relinquish my claim to a pension or annuity except the present and declare that his name is not on the pension roles of the agency of any State.
John Sitten was Elias' brother-in-law – he was married to Sarah (Sally) Rigby, Elias' wife's sister.
After the war, Elias returned to North Carolina until he moved to the Pendleton District, South Carolina in 1815. Then, in 1827, he moved his family to Hall County, Georgia where some of his children had migrated years before.
Elias had an extraordinary life because he was a born at a time when the world was rapidly changing and he had a significant role in the birth of our new nation. He was a true patriot who lived to the ripe old age of 86, which in itself was quite a feat for his time.
[1] Allred Family Organization web site:  Family History of Elias Allred 1758-1844
[2] Ancestry.com. U.S. Pensioners, 1818-1872 [database on-line]. Provo, UT, USA: Ancestry.com Operations Inc, 2007. To find the original document, on Ancestry.com, search for Elias Allred (b. 1758, Randolph County, NC, and go to Military, US Pensioners, 1818-1872.  Transcription on the AFO website
[3] Some sources say I.K. Tefft was Elias Allred's attorney but the 1860 census identifies him as a "bank officer".