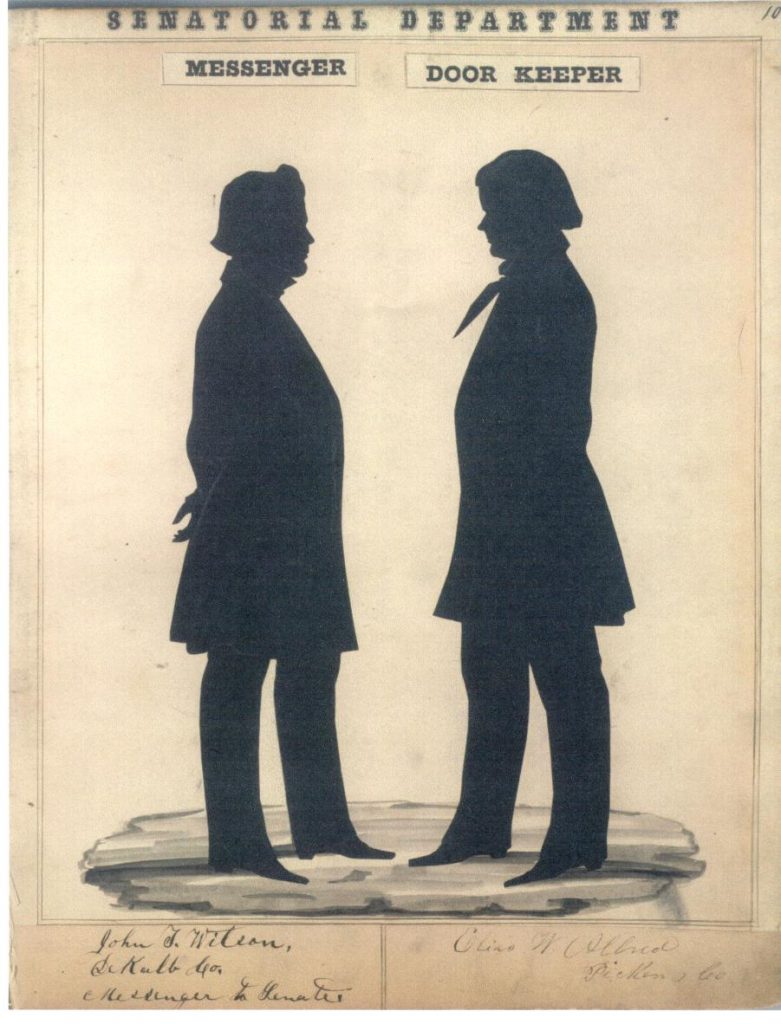 A CURIOUS IMAGE OF ELIAS WALTER ALLRED OF PICKENS COUNTY, GEORGIA
Allred Lineage:  Elias Walter, Elias, Elias, Thomas, Solomon born 1680 England
Born 1824 Hall Count, GA
Died 1910 Pickens County, GA
Written by Robert S. Davis, Jr.
The Allred family has its share of colorful characters and stories. One of the few collections of private papers relating to the Allreds are the genealogical files in the papers of Texas Governor James V. Allred in the University of Houston. Among the items found preserved there is the story (untrue) that the Allreds took their name from covering themselves in the blood of dead British soldiers during the American Revolution. Roland J. Deziel, Jr., 3122 West Lake Forest Drive, Augusta, Georgia 30909 has so far found an Allred who ruled one of England's seven Eighth Century kingdoms. Allreds appear in the Doomsday Books before and after William the Conqueror. Deziel has found much more including a Captain Allred fighting pirates off North Carolina in 1699. In 1884, the Atlanta press reported that the Pickens County Allreds owned a madstone that treated rabies.
Elias Walter Allred (b. 1824 Hall County, Georgia, d. 1910 Pickens County, Georgia) belonged to that branch of the Allreds and he certainly led an interesting life. Bob Hewson of Philadelphia has been working on a novel about him. This Elias was the son of the Elias Allred (b. 1789 Randolph County, North Carolina, d. 1870 Pickens County, Georgia) who served in the militia from Pendleton District, South Carolina, during the War of 1812 for which his widow later drew a Federal pension. She was Mary Harrison (b. 1789, d. 1882 Pickens County, Georgia). Her place of birth in the 1880 Federal census of Pickens County is given as England, although in other Federal censuses her birth place is stated as South Carolina. The claim of English birth most likely comes from some garbled account of the Georgia Allred family trying to claim the Rigby estate in England. Earl Harrison, Jr., 1420 Drexel Place, Charlotte, North Carolina 28209 believes that she was the sister of Reuben Harrison, b. 1786 in Wilkes County, Georgia.
By 1840, Elias and Mary Harrison Allred moved to the part of Cherokee County, Georgia that in December 1853 became Pickens County. They are buried in the old section of Cool Springs Cemetery in Tate. The eldest son among their many children was Lemuel James (?) Allred (b. 1814 Pendleton District, South Carolina, d. 1892 Pickens County, Georgia. He was named for a local politician and grew up to be a career politician, holding several elected and appointed positions. During the complicated Civil War era, he changed his politics several times. His tombstone in the Jasper city cemetery reads: "He was for his Country first, last and all the time . . . He never wavered in principals. He was all his life a true DEMOCRAT." As a Georgia house member from Cherokee County, Lemuel succeeded in getting passed, with the help of a prominent lobbyist, the bill that in December 1853 created Pickens County from the counties of Cherokee and Gilmer.
Elias Walter Allred, the second son of Elias Jr. and Mary, led a complicated career too, made all the more confusing by the many times he has been misidentified with other Allreds. Elias Walter Allred, or "black Elias," has been confused with his cousin Elias Earl (?) Allred (B. 1816 South Carolina), or "red Elias," who married Harriet Hyde and had several children. (These two Eliases and the Elias of the War of 1812, all appear on pages one and two of the 1870 Federal census of Pickens County.)
The Reverend Elias Walter Allred, Lemuel's brother, benefited from the creation of Pickens County to serve as the first tax collector. A tanner by trade, he married Martha "Patsy" Arthur (daughter of Barnabus Arthur?) in Cherokee County on January 11, 1848. They had no issue. In the 1849 tax digest, he appears as owning no taxable property. However, by 1860, he had acquired a great deal of land along with a reputation as a good but retired businessman and a powerful Baptist minister. He preached at such churches as Cool Springs (where he was later buried and likely was ordained). A letter involving some of his land speculations can be found in the manuscript collections of the Georgia Historical Society. When the Civil War began, he operated a hotel in Pickens County and served in the Georgia house of representatives, having previously been a state senator.[i] He succeeded in passing a bill, still technically in effect, that makes playing the game of Crack-a-loo illegal in Pickens County.
In July of 1864, Federal General William T. Sherman sent Federal cavalry to Jasper, the county seat of Pickens County, to end the raids on the Federal railroad by the local Confederate home guard. The troopers also rescued the supporters of the Union in Pickens County from persecutions. Reverend Elias was one of a five man delegation that met the Union soldiers and helped them to organize a 128 man local defense force to protect the Pickens County families from further depredations. The delegation was brought back to the Federal army headquarters to plead, probably successfully, for arms. The Confederate press reported that Elias was the prime mover in the pro-Union home guards and the local militia.[ii] However, Elias was at the same time also serving in a Georgia state Confederate cavalry unit and in the Georgia Confederate legislature.
The Federal chief of spies in Georgia, James George Brown, began rumors in the fall of 1864 that he had been appointed governor of the new state of North Georgia, with Elias Allred as its congressman. The story was false but Elias was arrested and his property was looted by the Confederates. He resigned from the Georgia legislature rather than waiting to be impeached. Elias was also reported as released from jail in Milledgeville, Georgia through the influence of his brother Lemuel with Confederate Governor Joseph E. Brown. However, in a deposition by Elias, a copy of which is found in the Allred family file at the Georgia State Division of Archives and History, he states that he never left Pickens County during the time that he supposedly was arrested in Milledgeville. Lemuel had been Governor Brown's executive secretary and door keeper to the Georgia Confederate House of Representatives.[iii]
The adventures of Elias Walter Allred did not end with the Civil War. In 1873, he was one of the ministers at the famous revival of Sharp Mountain Baptist Church in Cherokee County. The church goers saw a strange light that emitted curious noises on the pulpit that compelled them to remain in the church building for weeks. Elias helped to cut a hole in the nearby ice covered Etowah River for a resulting mass baptism of at least seventy-three people.[iv] In 1890, he helped his younger brother, Justice Department Commissioner, John Marion Allred in suppressing a secret society of vigilante moonshiners, known as the "Honest Man's Friend & Protector." The HMF&P burned down the homes of the men paid to testify against moonshining.
Within his family, the most well remembered story about Elias concerns his marble quarry. He was swindled out of it quarry in 1897 in an elaborate scam. The Georgia State Supreme Court eventually returned the property to Elias but the family remembers that he remained emotionally disturbed over what had been done to him to the day that he died. He sold the marble rights a few years before his death but neglected to remove the marble rights from his will, starting stories that have persisted for generations that the descendants of his brothers and sisters will someday inherit the marble rights.[v]
Recently, a likeness of Elias Walter Allred has come to light at the Georgia State Division of Archives and History. However, like everything connected to this colorful individual, it is complicated. In 1855, William Henry Brown, a Charleston, South Carolina Quaker, prepared a book of silhouettes for the Georgia legislature. The finished product, one of the last such works ever formally prepared, due to the competition from photography, was donated to the State Library of Georgia. Somehow, this unlikely document survived the pillaging of the state library by Sherman's soldiers.  Elias served the 1855 legislature as doorkeeper to the state senate. As a consequence, the book contains his likeness in silhouette.
[i]   Elias W. Allred, Name File, Georgia Department of Archives and History; Tate, History of Pickens County, 57, 70, 83, 88, 89, 189, 216, 227, 235, 287; oral history interview with Dallas Byass, in the possession of the author; and Elias W. Allred, Pickens County, Georgia, Credit Reports, R. G. Dun Collection, Baker Library, Harvard University.
[ii]   John P. Cummings to E. H. Murray, 31 July 1864, and Green B. Raum to S. B. Moe, 29 July 1864, in George W. Davis, et al, The War of the Rebellion (128 vols., Washington, DC: 1898-1904), Series I, vol. 52, pt. i, p. 107, vol. 38, pt. v, p. 299; Southern Watchman (Athens, Georgia) 17 August 1864, p. 2, c. 3; New York Herald, 26 November 1864; and Augusta Constitutionalist (Georgia), 11 February 1865, p. 1, c. 2.
[iii]   Robert S. Davis, Jr., "The Curious Civil War Career of James George Brown, Spy" Prologue: The Quarterly of the National Ar­chives: 26 (1994): 24-5; and C. Pat Cates, Soldiers Who Served in the Cherokee Legion Georgia State Guards (n.p., 1992), n.p.
[iv]  Bernice McCullar, "Tombstones Tell the Tale of Great Revival of 1873," Atlanta Journal, 28 November 1966. The success of this revival is documented but not McCullar's story of the circumstances. Christian Index (Macon), January 8, 1874, p. 2 c. 2. This incident parallels a miracle witnessed by the first Christians and described in Acts, chapter two.
[v]   Calhoun (Georgia) Times, July 6, 1882; Elizabeth Evans Kilbourne, Gordon County, Georgia, Newspaper Clippings Volume II 1878-1882 (Savannah, 1997), 364; Elias W. Allred vs. W. B. Tate, Pickens County Superior Court, 1898, on microfilm in the Pickens County Public Library; and Mallard vs. Allred, Reports of Cases Decided in the Supreme Court of the State of Georgia at the October Term 1898 (1899), 503-8.