Linda Allred Cooper, Avery Allred and Robert S. Davis in the Genealogy Library of Wallace State Community College, Hanceville, Alabama.  September 2017.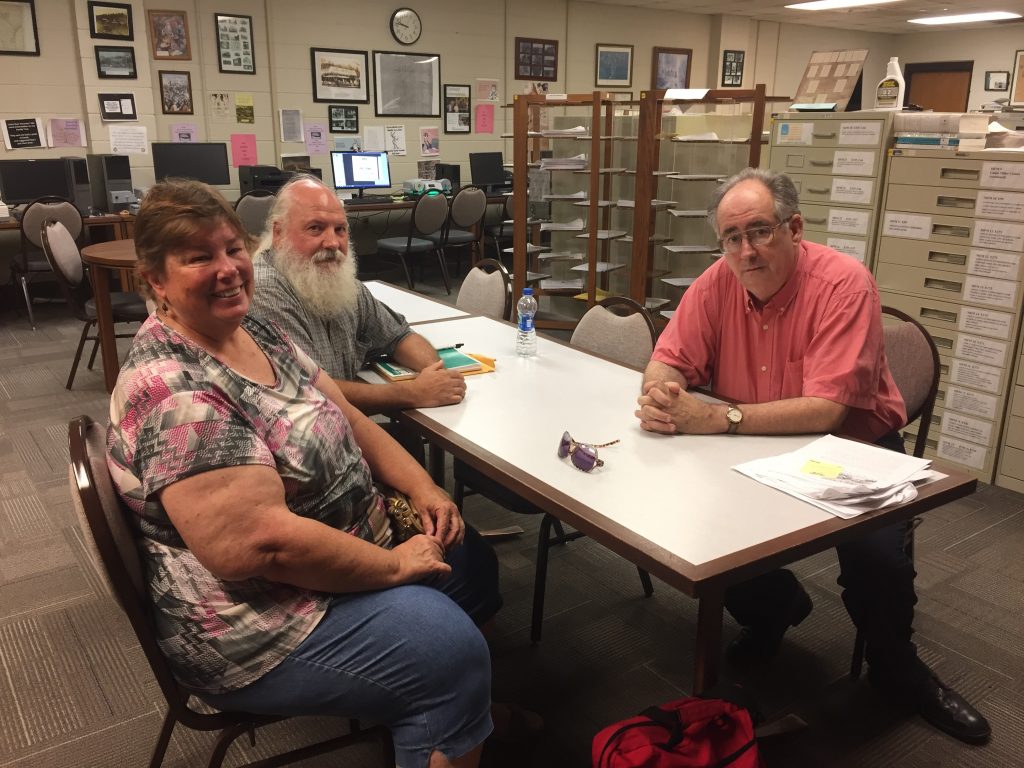 For more information about Robert S. Davis, visit https://www.wallacestate.edu/library/genealogy/bob-davis 
Notes on the Allreds of Pickens County, Georgia
by Robert S. Davis, Jr.
Hanceville, Alabama

My grandfather, John Richards Davis, in speaking about his ancestry, said that he knew little of the Allreds, except their lineage had been traced many times. He was correct although with such a big and far flung family, much remains unknown about many branches. Some of what was in print is incorrect. One of the more colorful of the Allred lines, those of Hall and Pickens Counties in Georgia, are one of the least well known.
My grandfather Davis and my grandfather John Garland Holbert both descended from these Allreds, although they never met or knew they were kin. Such a situation is not at all uncommon among the Georgia Allreds, a family that seems always more interested in the present than in keeping the past. However, their story can be found among the public records. One of the few collections of private papers relating to the Allreds are in the genealogical files in the papers of Texas Governor James V. Allred in the University of Houston. Among the items found preserved there is the story (untrue) that the Allreds took their name from covering themselves in the blood of dead British soldiers during the American Revolution. Genealogies such as Rulon C. Allred's The Allred Family in America have traced the Allred family and their name to the 1500s [The book's claim of early British Aldridge's was disproved through DNA, additional research and documentation found.]

The North Georgia Allreds descend from Elias Allred (b. 1758 or 1768 in Orange County, later Randolph County, North Carolina, d. 1843 Hall County, Georgia), a North Carolina Revolutionary War veteran who later drew a Federal pension. His descendants would learn of a Rigby estate in a book by London lawyer Robert Gun of American claims to English estates. In a probably unsuccessful attempt to claim the Rigby estate, Elias' daughter, Mary Allred (b. 1791 Randolph County, NC) made a deposition on 12 August 1875 about her about her mother's family. The deposition is among the loose superior court papers on microfilm at the Pickens County library. Margaret testified that her grandfather John Rigby was the son of a William Rigby who died in England. She attended to John when he died at her father's house in North Carolina. John Rigby had two daughters, Polly, who married Elias Allred and Sallie who married John Sitton. The Sittons, like the Allreds, would move to North Georgia. Elias had served as a substitute for John Sitton in the American Revolution.

Census records show that Elias and Polly Rigby Allred had several children, although most of them have not been identified. Their son, Elias, Jr. (b. 1789 Randolph County, NC, d. 1870 Pickens County, GA) served in the militia from Pendleton District, SC, during the War of 1812 for which his widow later drew a Federal pension. She was Mary Harrison (b. 1789, d. 1882 Pickens County, GA). Her place of birth in the 1880 census of Pickens County is given as England, although in other Federal censuses her birth place is stated as South Carolina. The claim of English birth most likely comes from some garbled account of the Allred claim to the Rigby estate. Earl Harrison, Jr., Charlotte, North Carolina, believes that she was the sister of Reuben Harrison, b. 1786 in Wilkes County, Georgia.

Elias Jr. and Mary Allred moved to the part of Cherokee County, Georgia, that in December 1853 became Pickens County. They are buried in the old section of Cool Spring Cemetery in Tate. Among their several children was Martha "Patsy" Benice Allred (b. 1808 Pendleton District, South Carolina, d, 1891 Hall County, Georgia. She married Benjamin Faulkner (pronounced "Fortner") of Hall County. Their son Thomas would be a wealthy planter whose record book is today in the Hargrett Library of the University of Georgia.
My grandfather John R. Davis was Thomas' great grandson. Another daughter of Elias and Mary was Elizabeth Allred (b. 1800 Pendleton District, South Carolina, d. in the Pickens County cyclone of 1884. She married John Nicholson, Jr., of Pickens County,
the son of Revolutionary War pensioner John Nicholson. My grandfather John Garland Holbert was the great great grandson of John Jr. and Elizabeth. John Nicholson Sr.'s role in the border dispute between Georgia and North Carolina, "the Walton War," has been published. He had the dubious distinction of being the only man to ever represent a county in the Georgia state senate that proved to be in another state. Other daughters of Elias and Mary Harrison Allred were

Margaret (Mrs. William Peoples),
Mary

"Polly" (Mrs. Alfred Robinson),
Nancy (Mrs. Jacob Robinson),
Ferray or Terracy (Mrs. John C. Jones Jr.) and
Rebecca (Mrs. Issiah Robbins).

However, the more interesting of the children of Elias and Mary Harrison Allred were their three sons. They played an important although very complicated part in the history of Pickens County. Their careers will be summarized below—as clearly as possible.

Lemuel J. Allred (b. 1814 Pendleton District, SC, d. 1892 Pickens County, (GA) was a career politician, holding several elected and appointed positions. (Photo from Ancestry.com)  As a Georgia house member from Cherokee County, he succeeded in getting passed, with the help of a prominent lobbyist, the bill that in December 1853 created Pickens County from the counties of Cherokee and Gilmer. He and his brother-in-law Robert B. McCutchen would take credit for raising a Union flag in front of the Pickens County court house in protest to Georgia succeeding from the Union in 1860. However, during the Civil War, Lemuel served as deputy sheriff of Pickens County, as an officer in the Georgia State Confederate forces, and as alcohol purchasing officer for the Confederate hospitals in Atlanta. His letters as the latter are today in the William L. Clements Library of the University of Michigan.  However, when the Republicans ruled Georgia immediately after the war, Lemuel published a pamphlet claiming that he had always supported the Union. He also unsuccessfully filed a claim as a Southern Unionist whose property has been destroyed during the war by Federal forces.  When the Democrats came to power, Lemuel served as their doorkeeper of the Georgia state senate for many years. His tombstone in the Jasper city cemetery reads: "He was for his Country first, last and all the time…He never wavered in principles. He was all his life a true DEMOCRAT." He married Nancy Angus McCutchen and their eight children have many descendants.
Elias Walter Allred (b. 1824 Hall County, GA, d. 1910 Pickens County, GA), the second son of Elias Jr., and Mary, led a complicated career too, made all the more confusing by the many times he has been misidentified with other men. He married Patsy Arthur, by whom he had no children. Elias Walter Allred, "black Elias," has been confused with his cousin Elias Earl (?) Allred (b. 1816 South Carolina), "red Elias," who married Harriet Hyde and had several children. (These two Eliases and the Elias of the War of 1812, all appear on pages one and two of the 1870 Federal census of Pickens County.)

The Rev. Elias Walter Allred, Lemuel's brother, benefited from the creation of Pickens County to serve as the first tax collector. He eventually acquired a great deal of land along with a reputation as a good business man and powerful Baptist minister. A letter involving some of his land speculations can be found in the manuscript collections of the Georgia Historical Society.  When the Civil War began, he operated a hotel in Tate and served in the Georgia House of Representatives, having previously been a state senator.

In the summer of 1864, Federal General William T. Sherman sent troops to rescue the supporters of the Union in Pickens County from the Confederate home guards. Rev. Elias was one of a five-man delegation that met the Union soldiers and helped them organize a 125 local defense force to protect the Pickens County families from further depredations. However, Elias was at the same time also serving in a Georgia state Confederate cavalry unit and in the Georgia Confederate legislature.  The Federal chief of spies in Georgia, James George Brown, began rumors in the fall of 1864 that he had been appointed governor of the new state of North Georgia, with Elias Allred as its congressman. The story was false but Elias was arrested and his property was looted by the Confederates. Elias was released from jail in Milledgeville, Georgia, through the influence of his brother Lemuel with Confederate Governor and former Pickens County judge Joseph E. Brown. Lemuel had been Brown's executive secretary.

Among the properties that Elias owned was a marble quarry. He was swindled out of this quarry in 1897 in an elaborate scam. The Georgia State Supreme Court eventually returned the property to Elias but the family remembers that he remained upset over what had been done to him to the day he died. He sold the marble rights a few years before his death but neglected to remove the marble rights from his will, starting stories that have persisted for generations that the descendants of his brothers and sisters will someday inherit the marble rights.

John Marion Allred (b. 1831 Hall County, Georgia, d 1915 Pickens County, Georgia) (Photo from Ancestry.com) brother of Lemuel and Elias, would have a long career in Republican politics. He was a Justice Department commissioner in Jasper in 1890 when a secret society of vigilante moonshiners, known as the "Honest Man's Friend & Protector," were burning down the homes of the men paid to testify against moon shining, John M. Allred helped bring the vigilantes to justice although he also testified to the otherwise good character of these men. However, his role in that effort has been incorrectly (?) attributed to his brother Elias. Although he was a Democrat before the Civil War, he supported the Union throughout the fighting and was a Republican member of the Georgia Legislature in 1871-1872. He also helped to bring the railroad to Pickens County and central North Georgia. John Marion Allred married sisters, Martha and Sarah
M. Davis. Many of his descendants still live in Pickens County.