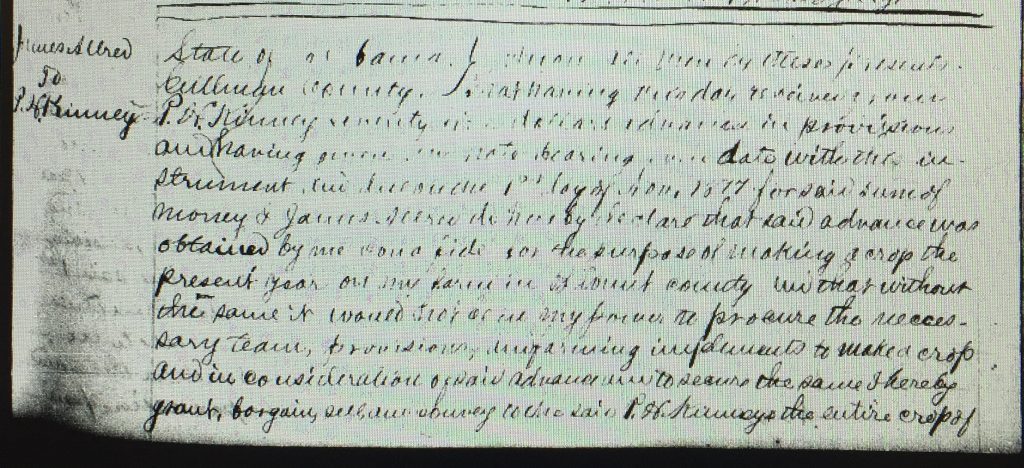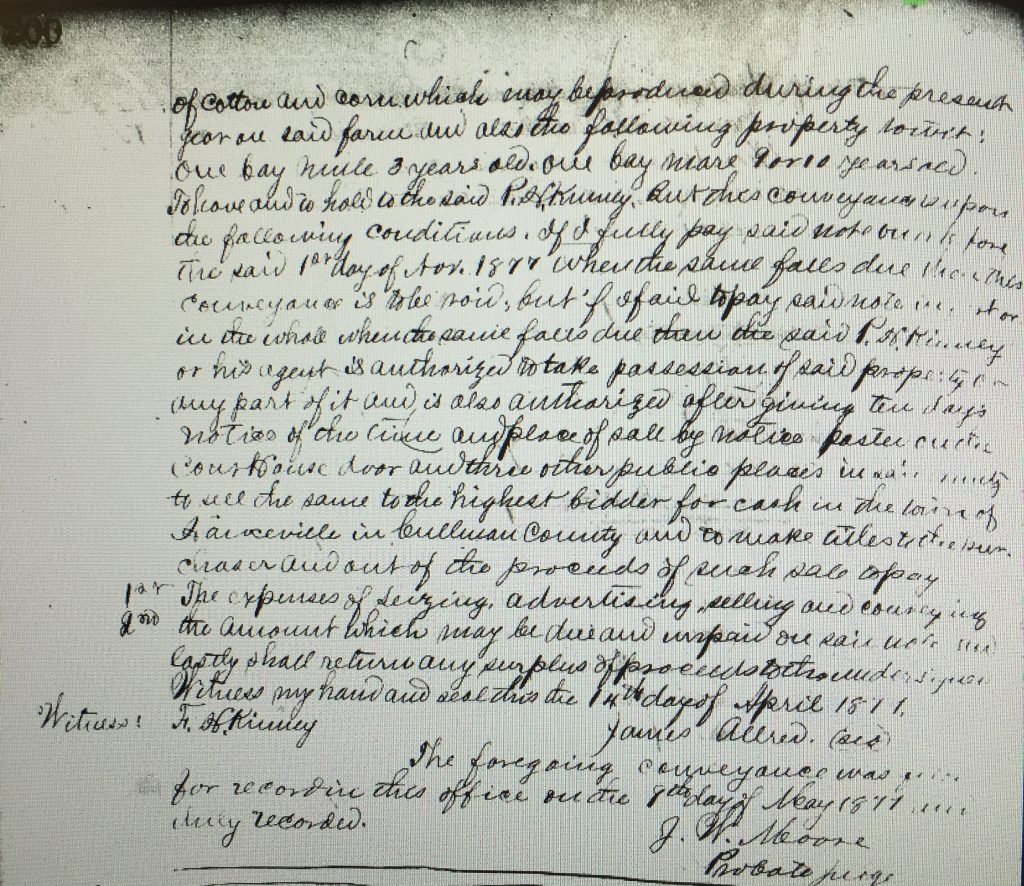 1877 Deed
James Allred to P. H. Kinney
Blount County, Alabama
Deed Book U, Page 199-200
Wallace State College Library microfilm
State of Alabama
Cullman County
Know all men by these presents
that having this day received of said
H. Kinney seventy nine dollars advanced in provision
and having given on note bearing the date with this in-
strument and due on the 1st day of Nov 1877 for said sum of
money & James Allred do hereby declare that said advance was
obtained by me in consideration for the purpose of making a crop the
present year on my farm in Blount County and that without
the same it would ___ or in any forever to procure the necces-
sary team, provisions, and farming instruments to make a crop
and in consideration or paid advance due to secure the same I hereby
grant, bargain, sell, and convey to the said P. H. Kinney the entire crop of
of cotton and corn which may be produced during the present
gear on said farm and also the following property to wit:
one bay mule 3 years old, one mare 9 or 10 years old.
To have and to hold to the said P. H. Kinney but this conveyances is upon
the following conditions of I fully pay said note on or before
the said 1st day of Nov 1877 when the same falls due when this
conveyances is to be said, but if afraid to pay said note ___ or
in the whole when the same falls due then the said P. H. Kinney
or his agent is authorized to take possession of said property on
any part of it and is also authorized after giving ten days
notice of the time and place of sale by notice posted on the
courthouse door and three other public places in said county
to sell the same to the highest bidder for case in the town of
Hanceville in Cullman County and to make titles to the pur-
chases and out of the proceeds of such sale copay
1st the expenses of seizing advertising selling and conveying
2nd the amount which may be due and unpaid or said note and
lastly shall return any surplus of proceeds to the under signed.
Witness my hand and seal this the 4th day of April 1877.
James Allred (seal)
Witness:  F. H. Kinney
The foregoing conveyances was filed
for recording this office on the 9th day of May 1877 and
duly recorded.
W. Moore
Probate Judge