Colin Allred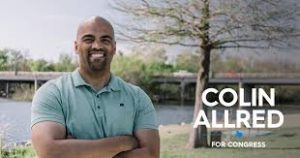 Colin Zachary Allred (born April 15, 1983 in Dallas, Texas) is a newly elected U.S. Congressman representing the 32nd District of Texas.  He is a civil rights attorney and former American football linebacker who played for the Tennessee Titans of the National Football League. He was signed by the Titans as an undrafted free agent in 2006. He played college football at Baylor and high school football at Hillcrest High School.
Allred later pursued a degree in law. After graduating law school at University of California, Berkeley Boalt Hall, Allred worked as a Special Assistant in the Department of Housing and Urban Development's Office of General Counsel alongside then-Secretary Julian Castro. Among his projects at HUD, Allred worked with Congress and the Office of the Inspector General to ensure that public funds were spent wisely without sacrificing services and to ensure that the Department complied with all applicable ethics laws and regulations.  He most recently he has been working as a voting rights litigator in Dallas.
On April 21, 2017, Allred announced his campaign as a member of the Democratic Party to challenge Republican Pete Sessions for election to the United States House of Representatives for Texas's 32nd congressional district in the 2018 elections.  He won the election on November 6, 2018, defeating longtime Republican Congressman Pete Sessions and will be the first Democrat to represent the 32nd District, which includes northeastern Dallas County and a chunk of Collin County. 
Allred Lineage:  Colin, Judith, Opie, Henry B., Joseph, William Hackley, James, William, Thomas, Solomon born 1680 England