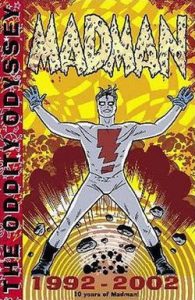 Michael Dalton Allred was born in 1962 and rose to fame as the creator of Madman Comics.  From wikipedia:
Mike Allred began his career as a radio host on KYES AM 950 (KY95) in Roseburg, Oregon. He later became a television reporter in Europe, and started drawing comics in 1989 with the 104-page graphic novel Dead Air (Slave Labor Graphics).  Madman first appeared as Frank Einstein in Creatures of the Id and Grafik Muzik published in 1990, but it wasn't until March 1992 that the first Madman miniseries debuted from Tundra Publishing in March 1992. The series gained further recognition with its move to Dark Horse Comics in April 1994, where it was relaunched as Madman Comics and went on to be nominated for several Harvey Awards.  Madman Comics ran for 20 issues and ended in 2000. From 2007–2009, Image Comics published Madman: Atomic Comics for 17 issues.  
Allred drew part of the 1993 "Worlds' End" story arc in Neil Gaiman's The Sandman series.  Allred appeared as himself in the 1997 feature film Chasing Amy as part of the opening scene at a comic book convention, signing copies of his comic Madman. He also provides the artwork for the fictional comic book Bluntman and Chronic.
Among other works, In 2004 and 2005, Allred wrote and drew The Golden Plates, an adaptation of The Book of Mormon.   Allred is a Latter-Day Saint, and did much of the work on this project in collaboration with his wife Laura Allred.
Linage:  Michael, Dale Leroy, Leroy C., Wilford Leroy, Sidney, Isaac, James, William, Thomas, Solomon born 1680 Lancashire, England