Lance Allred
First Deaf NBA Basketball Player
By:  Maryellen West
Allred Family Newsletter Issue 112, Page 9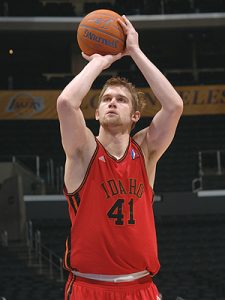 Lance Allred is descended from Isaac Allred and Mary Calvert through their son Byron Harvey Sr. and his son Byron Harvey Jr.  His grandfather was Rulon Clark Allred, the leader of a polygamist group in Montana.  Lance spent his first seven years in that polygamist community though his father only had one wife.  His parents later left that community, severed their ties with the faith and moved to Salt Lake City where Lance, the youngest of five children, began playing basketball in junior high, mostly as a result of his rapid growth spurt to six feet six inches.  (He eventually reached six feet eleven inches.)  His story is one of hard work, grit, determination and overcoming his obsessive-compulsive disorder, deafness, near death due to RH incompatibility at birth  and a lack of natural talent.  He credits several of his coaches, his family and his faith for overcoming his perceived disabilities.  Lance had a goal to play for the University of Utah and his dream came true when he was drafted by Coach Rick Majeris.  Over three years this dream became a nightmare as Lance records terrible verbal abuse even though he was consistently scoring and blocking in double figures.  He transferred to Weber College for his senior season and from there spent time overseas and subsequently played in the NBA D League before being called up to the Cleveland Cavaliers.  His time in the NBA was short lived but he did accomplish his goal to wear a NBA jersey and play in the "bigs".  Lance now is a writer and popular motivational speaker.
Lineage:  Lance Jr., Lance Sr., Rulon C., Byron Harvey Jr., Byron Harvey Sr., William Moore, Isaac, William, Thomas, Solomon born 1680 Lancashire, England