Abstracted from Wikipedia: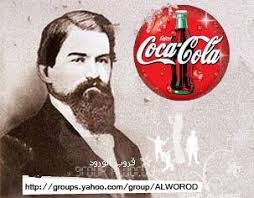 John Stith Pemberton (July 8, 1831 – August 16, 1888) was an American pharmacist who is best known for being the founder of Coca-Cola. In May 1886, he developed an early version of a beverage that would later become world-famous as Coca-Cola, but sold his rights to the drink shortly before his death.
Pemberton was born July 8, 1831, in Knoxville, Georgia, and spent most of his childhood in Rome, Georgia. His parents were James C. Pemberton and Martha L. Gant. He entered the Reform Medical College of Georgia in Macon, and in 1850, at the age of nineteen, he was licensed to practice pharmacy, however his main talent was chemistry.  Shortly thereafter, he met Ann Eliza Clifford Lewis of Columbus, Georgia, known to her friends as "Cliff", who had been a student at the Wesleyan College in Macon. They were married in Columbus in 1853. Their only child, Charles Ney Pemberton, was born in 1854. They lived in the Pemberton House in Columbus.
During the American Civil War, Pemberton served in the Third Cavalry Battalion of the Georgia State Guard, which was at that time a component of the Confederate army. He achieved the rank of lieutenant colonel.  In April 1865, Pemberton sustained a saber wound to the chest during the Battle of Columbus. He soon became addicted to the morphine used to ease his pain.   He next began experimenting with coca and coca wines, eventually creating a recipe which contained extracts of kola nut and damiana, which he called Pemberton's French Wine Coca.
According to Coca-Cola historian Phil Mooney, Pemberton's world-famous soda was "created in Columbus, Georgia and carried to Atlanta".  With public concern about the drug addiction, depression, and alcoholism among war veterans, and "neurasthenia", as well as among "highly-strung" Southern women, Pemberton's medicine was advertised as particularly beneficial for "ladies, and all those whose sedentary employment causes nervous prostration".
In 1886, when Atlanta and Fulton County enacted temperance legislation, Pemberton found himself forced to produce a non-alcoholic alternative to his French Wine Coca.  Pemberton relied on Atlanta drugstore owner-proprietor Willis E. Venable to test, and help him perfect, the recipe for the beverage, which he formulated by trial and error. With Venable's assistance, Pemberton decided then to sell it as a fountain drink rather than a medicine.
Soon after Coca-Cola hit the market, Pemberton fell ill and nearly bankrupt. Sick and desperate, he began selling rights to his formula to his business partners in Atlanta. Part of his motivation to sell actually derived from his expensive continuing morphine addiction.   Pemberton had a hunch that his formula "some day will be a national drink", so he attempted to retain a share of the ownership to leave to his son.  However, Pemberton's son wanted the money, so in 1888 Pemberton and his son sold the remaining portion of the patent.
John Pemberton died from stomach cancer at age 57 in August 1888. At the time of his death, he also suffered from poverty and addiction to morphine. His body was returned to Columbus, Georgia, where he was buried at Linwood Cemetery.  His gravemarker is engraved with symbols showing his service in the Confederate army and his pride in being a Freemason.  His son Charley continued to sell his father's formula, but only six years later Charles Pemberton died, an opium user himself.
Lineage:  John, James Clifford, John, Joseph, Israel, Phineas, Ralph first cousin of Ellen Pemberton who married John Allred.  John and Ellen were the parents of Solomon Allred born 1680 Lancashire, England