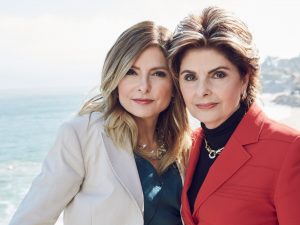 Gloria Allred is an American women's rights attorney notable for taking high-profile and often controversial cases, particularly those involving the protection of women's rights.
No, she is not really an Allred.  Gloria Rachel Bloom's 2nd husband was William Allred (married 1968-1987).   She was already interested in Civil Rights when, while on vacation in Acapulco in 1966, she was raped at gunpoint.  She discovered she was pregnant and sought an abortion. Abortion was illegal for doctors to perform at the time so Allred had a back-alley abortion. After undergoing the procedure, she began hemorrhaging and became infected, only recovering after being hospitalized.  She did not report the rape, she said, because she didn't think anyone would believe her.   This experience solidified her desire to become a Victim's Advocate and fight for Women's Rights.  
In 1968, she married William Allred.  While married, she enrolled in Southwestern University School of Law and later transferred to Loyola University School of Law in Los Angeles.   Gloria graduated and was admitted to the State Bar of California in 1975.   She had already established her reputation and started her career as Gloria Allred so kept her married name after divorcing her husband in 1987.   Daughter, Lisa Bloom, was born during Gloria's first marriage, thus is not an Allred either.