From:  http://billallred.com/about-us/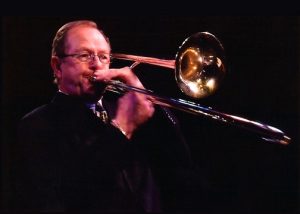 Bill's Musical Legacy Started In The City Of New Orleans, Bill's Grandmother Ida, Was Born Near The "Crescent City" In The Town Of Franklin, LA. His Father, John, Was A Jazz Pianist And Banjoist On Many Of The Steamboats Of The Great "Strekfus Line," Playing In And Around New Orleans As Well As Up And Down The Mississippi And Ohio Rivers. Bill Was Also Born Near The Mississippi River In The Town Of Rock Island, Illinois. He Played Trombone In High School, College And The U.S. Navy Band.
In 1971, Bill Auditioned For The Position Of Staff Musician At The New Walt Disney World Attraction In Orlando, Florida. He Was Chosen As One Of The Original 200 Staff Musicians From Over 2500 Auditioned. Bill Was A Full Time Employee At WDW For Over 12 Years. He Now Does Contract Work For Them. He Later Formed The Band And Show For Rosie O'Grady's In Orlando As Well As The Ft. Lauderdale Music Hall, Auntie Mame's. The Later Won Him The Coveted Carbonel Award For The "Best Night Club Show" In South Florida.
For Some Years, Bill Was Also A Regular Member Of The Wild Bill Davison Jazz Band, Traveling To Switzerland, Germany, Sweden, Denmark, England, South America And At Many Other Festivals And Concerts Worldwide.
Bill Has Also Appeared In Concert With Billy Butterfield, Bob Crosby, Bobby Hackett, Eddie Miller, Al Hirt, Dick Hyman, Dizzy Gillespie, Mel Torme, Al Cohen, Louis Bellson, Snooky Young, Ross Tomkins, Bob Cooper, Urbie Green, Carl Fontana, Milt Hinton, Bob Haggart, Butch Miles, Buddy Morrow, Tex Benecke, Billy Maxted, And The Lawson-Haggart, World's Greatest Jazz Band.
Bill's Big Band Experience Includes Bob Crosby, Tex Beneke, Buddy Morrow, Ray Charles And The Terry Myers Salute To Benny Goodman.
Bill Has Appeared With His Own CLASSIC JAZZ BAND At Many Major US Jazz Festivals. The North Sea Jazz Festival, Several Tours Of The UK Included Performances In And Around London, Edinburgh, Brecon, Wales, The Birmingham, England Jazz Festival, Concerts In Belfast, Northern Ireland And A One-Week Appearance As "Jazz Band In Residence" At The Prestigious Music Festival In Hong Kong. Bill Is On 4 Recordings With Wild Bill Davison, Has Just Released The 13th CD With His Classic Jazz Band And A Recent Recording New York Sessions With An All-Star Band Including His Son, Well-Known Trombonist, John Allred And Warren Vache.
Lineage:  Bill, John, more coming soon...